We're talking about the Elf Bar BC5000 today. This nifty little gadget is a game-changer in the vaping world and a must-try for vaping newbies and veterans alike.
(The brand name of Elf Bar's products sold in the US market was changed to EBDESIGN.)
The Elf Bar BC5000 is a single-use vaping device, which means no refills, and no replacement components. You use it, enjoy it, and when you're done, you just throw it away. This is the ultimate vaping convenience!
But that's not all, folks. This baby will let you experience the ultimate convenience of vaping, here is the summary:
Comfortable Grip: The Elf Bar BC5000 is ergonomically designed, making it a joy to hold and use.
Long-Lasting: This device offers up to 5000 puffs! That's a lot of vape time before you need to think about getting a new one.
Great Flavors: With a wide array of flavors to choose from, you're sure to find your new favorite.
Trust me, you're gonna love this. The Elf Bar BC5000 is like the all-inclusive resort of the vaping world – everything you need, right at your fingertips. So, ready to dive into those flavors?
Overview
The Elf Bar BC5000 e-cigarette disposable kit is equipped with a large-capacity 650mAh battery and built-in 13ml of juice, which is available in 5%, 3%, and zero nicotine. Holds up to 5000 puffs. Over 45 flavors available
What's in the Box?
Elf Bar BC5000 Device: It's the star of the show, after all.
(USB-C charger not included)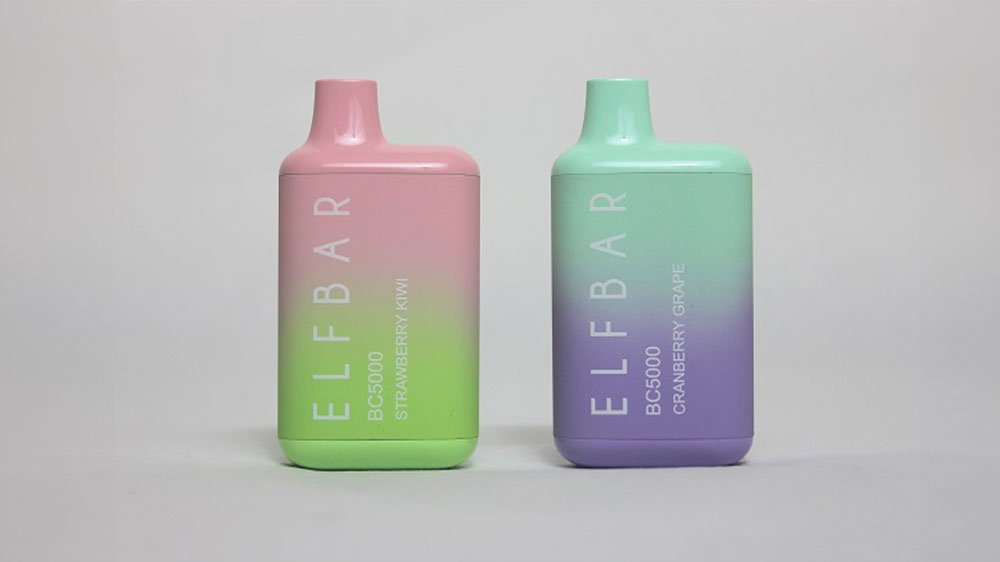 Features and Specifications:
Specifications
Dimensions: 79 mm x 41 mm x 19 mm
Strength: 5% /4% / 3% / 0% nicotine
Capacity: 13 mL juice
Battery capacity: 650 mAh
Charging: Type-C
Elf Bar BC5000 Flavors List
Black Winter: This unique flavor combines blackberry essence with minty ice. This fruit and ice vape from Elf Bar is a must-try for vapers who prefer berry flavors.
Beach Day: This Beach Day flavor will remind you of your favorite Skittles, with a little less sweetness.
Mixed Fruity: Mixed Fruity has a delicious hint of both grape and peach.
Berry Mix (Crazi Berry): Berry Mix (Crazi Berry) is a delicious berry mix for all you berry lovers!
Limited Edition Blue Cotton Candy: This awesome vape flavor exhibits a delightful saltwater taffy taste, infused with sweet and tart berries. It is a carnival of cotton candy goodness custom-made for you.
Blue Razz Ice: A classic blue raspberry flavor finished with a hint of ice.
Blueberry Energize: Sweet and tangy, this blueberry blast will energize your taste buds!
Blueberry Pom Ice: Say hello to the ultimate fruity adventure! This vape juice takes the bold and sweet flavors of blueberry and pairs them with the tangy and complex taste of pomegranate. But that's not all! An icy finish rounds out the experience, leaving you with a satisfying chill that makes every puff feel like a cool breeze on a hot day.
Cherry Lemon Mint: This zesty and refreshing blend of ripe cherries and tart lemons includes a cool hint of mint, creating a lively vaping experience.
Clear: Flavorless with just a STRONG kick of ice. No sweetness, no spearmint, just ICE!
Cranberry Grape: The popular superfood mixed with juicy grape.
Cranberry Puncher: Indulge yourself in this luxurious new flavor, featuring a dash of tart cranberry blended with refreshing fruit punch. A harmonious balance of sweet and tart to tantalize your taste buds with every puff.
Cuba Cigar: The traditional earthy flavor profiles of cigars made with only the best tobacco leaves.
Snoow Ice (Frozen Creamsicle): Immerse yourself in the tantalizing fusion of creamy vanilla ice cream swirled with tangy orange goodness, creating a truly delightful flavor experience.
Fuji Ice: The fresh crisp apple flavor drenched in ice is an unforgettable vape that refreshes your senses from start to finish.
Grape Energy: This "energy drink" vape flavor has an awesome tangy grape flavor, featuring a slightly sweet taste and effervescent soda effect that is a big-time palate pleaser!
Gumi: This unique flavor delivers a sweet and citrusy sensation with every puff. Awesome notes of sourness are prevalent too, making this one delightfully different.
Honeydew Pineapple Orange: This is the "fruit salad" of vape flavors! It delivers a hypnotically sweet taste of these three mixed fruits with every inhale. Luxuriously luscious! Let us take you to the islands mon!
Kiwi Passionfruit Guava A unique and flavorful trio of tart kiwi, Brazilian passionfruit, and tropical guava.
Lemon Mint: A refreshing luscious lemon flavor and mint mix.
Malibu: Enjoy a fruit lover's treat with a light menthol finish. Malibu features orange, pineapple, and peach flavors. It is perfect for vaping at the beach. It has no harshness, and the aftertaste is pleasantly sweet.
Mandarin Lime: We are loving the one-of-a-kind taste of sweet mandarin orange with fresh lime zest, and are 100% sure you will too. Puff on this flavor from the Orient and enjoy!
Mango Peach Apricot: Delicate fruity flavors fused together for a pleasant floral finish.
Mango Peach: A tropical duo of mouth-watering mango and peach.
Miami Mint: Tropically cool just like you! Enjoy a refreshing menthol sensation with a taste of South Beach.
Orange Pear Nectar: A tantalizing fusion of zesty oranges and succulent pears do a dance on your tongue! This luscious vape nectar bursts with vibrant citrus sweetness, and is a delight to your senses.
Passionfruit Orange Guava: An exotic combination! The unique sweetness of guava and the slight tartness of passionfruit with a splash of sunny orange.
Peach Berry: Fresh mixed berries and Georgia peaches meet to create an exquisite burst of fruity flavor that displays its complexity with every vape puff.
Peach Ice: A true classic disposable flavor featuring a handful of blended peaches with a cool balance of menthol.
Peach Mango Watermelon: The tropical flavors of peach and mango finished with the aromas of sweet melon.
Pineapple Coconut Ice: Irresistible ice and tangy pineapple layered with smooth creamy coconut.
Pineapple Orange Mint: This flavor offers a tropical twist with a bushel of tangy pineapples thrown in. Add some juicy oranges, and a touch of cooling mint, and find yourself on a sunny beach with each puff.
Pineapple Strawnanna: The perfect balance of strawberry and banana, with a pleasing pineapple finish. A smooth, fruity vape that quickly became a classic.
Rainbow Candy: The classic flavors of grape, orange, green apple, lemon and raspberry are all brought together in a vape concoction of sweet and tangy fruitiness. This baby is certain to give your taste buds the kick they love.
Rainbow Cloudz A truly delightful blast of mixed candied fruit that will remind you of Skittles with a hint of cotton candy mixed in. You'll say, "Wow, that tastes good!" … and will want to come back for more.
Sakura Grape: The flavors of Japanese grapes combined into one flavorful disposable vape.
Snoow Grape: A unique and enchanting flavor profile that captures the essence of plump, sweet grapes blanketed in a delicate layer of frost. Chillax with this icy grape sensation that will leave you wanting more.
Sour Apple: Tangy and tart green apples that will keep you coming back for more.
Strawberry Banana: The perfect blend of sweet strawberries and creamy bananas.
Strawberry Kiwi: A tangy and flavorful combination of juicy strawberries and tart kiwis.
Strawberry Ice: A true fruity disposable flavor featuring a handful of blended strawberries with a cool balance of menthol.
Strawberry Mango: A fresh burst of mango paired with ripe strawberry.
Strawberry Passion Fruit Duo Ice: A luscious blend of ripe strawberries and exotic passion fruit, expertly fused with a cool icy finish, providing a tantalizing and refreshing vaping experience that will wake you up!
Strawberry Pear Orange Ice: Experience a chilling whirlwind of delectable sweetness with every inhale. Ripe strawberries, juicy pears, and tangy oranges get together to create an invigorating fruit medley. As you puff, a frosty sensation takes over that leaves a satisfyingly cool aftertaste you'll love.
Strawberry Pina Colada: Succulent pineapple, smooth, creamy coconut, and fresh-picked strawberries will awaken your senses.
Strawberry Raspberry Cherry Ice: This is like a fruity fiesta in your mouth! Imagine the perfect blend of sweet strawberries, tangy raspberries, and juicy cherries, all topped off with a refreshing hit of icy goodness. It's the perfect vape for a sunny day or when you want to add a little pep to your step.
Strawberry Watermelon: Strawberry and watermelon blended and shaken was created to awaken the fruit lover in you. Finally the cure for the summertime blues is here!
Strawlemon Ice: Prepare for a flavor combination that will make your taste buds sing with joy! Imagine the perfect harmony of succulent strawberries and zingy lemons, creating a fruity symphony in your mouth. And to take it up a notch, a cool, icy finish gives you a refreshing sensation that'll make you go "ahhh" with every puff.
Strazz: Vine ripened strawberries combined with sweet raspberry essence that finishes with a hint of mint!
Summertime:This is a truly delightful combination of strawberry, kiwi, and fresh squeezed lemonade. Each puff will awaken your taste buds, as it washes over your senses like a cooling rain on a hot summer day!
Sunset: Get ready for the fruit blast of the century! Strawberry, peach, mango, and orange got together and decided to create a dream come true!! Enjoy the best-tasting new flavor to come along in a while. What a nice way to end each day with Sunset at sunset!
Limited Edition Sunrise: Wake up to the welcoming vape taste of orange and pineapple with nuances of coconut too! This one will get you all bright-eyed and bushy-tailed!
Triple Berry Ice: A concoction of assorted berries finished with a refreshing icy exhale.
Tropical Rainbow Blast: An array of wild berries infused with sweet tropical chewy candy.
Limited Edition Winter Berry: Get into the delectable taste of pungent blackberries and sweet blueberries! It finishes with a big-time menthol blast too! Time to chill… It's Winter Berry and you!
Watermelon BG: The aromas of flavorful bubblegum and watermelon that's bubba-licious on your taste buds.
Watermelon Nana Ice: A fruity blend of the most refreshing fruits, watermelon and banana. A mix that never gets old.
Watermelon Ice: How about we make watermelon even more refreshing? Get that cool ice and sweet inhale.
Watermelon Jolly Candy Ice: Juicy watermelon vape flavor meets a cool, wintry blast of delight. The "flavor gang" is all here, including watermelon, hard candy, menthol, and cotton candy perfectly combined together for a truly unique vape experience.
Watermelon Banana Ice: Watermelon Banana Ice is a classic lush ice flavor. It is so fresh with sweet watermelon and ripe bananas, and finishes with a hefty blast of ice.
Watermelon Brzz Ice Delightful puffs of blue raspberry freshness, combined expertly with watermelon, and just the right amount of menthol flavor.
Strawberry Tobacco EB Design: Get yourself into this perfect blend of sweet and smoky with our Strawberry Tobacco flavor. Ripe strawberries intertwine with rich tobacco nuances creating a super satisfying vaping experience.
Blueberry Tobacco: A delightful fusion of luscious blueberries and robust tobacco comes to life in our Blueberry Tobacco vape flavor. The natural sweetness of wild blueberries makes the perfect companion to the earthy undertones of tobacco. This one is so unique.
Mint Tobacco: Awaken your senses with the invigorating fusion of cool mint and big bold tobacco. The ice cold freshness of mint and the deep rich tobacco is phenomenal! This one just hits differently.
Coffee Tobacco EB Design: An irresistible immersion of aroma and taste is what you'll get with our Coffee Tobacco flavor. Deep dark roasted flavors of coffee combine with the smoky richness of tobacco, transporting you to a cozy coffee shop with every puff.
Nut Tobacco (Brown Tobacco): The warmth of roasted nuts harmonizes with robust tobacco, providing a smooth and satisfying vape that is a comforting guilty pleasure.
Alright, let's take a breather and reflect on what we've just read. I know, it's a lot to take in.
With the Elf Bar BC5000, you're not just getting a vape. You're getting a flavor-packed, long-lasting, puffing powerhouse that's as stylish as it is functional.
So, whether you're new to the vaping scene or a seasoned veteran, the Elf Bar BC5000 has something for everyone. Go ahead, take the plunge. Your taste buds will thank you.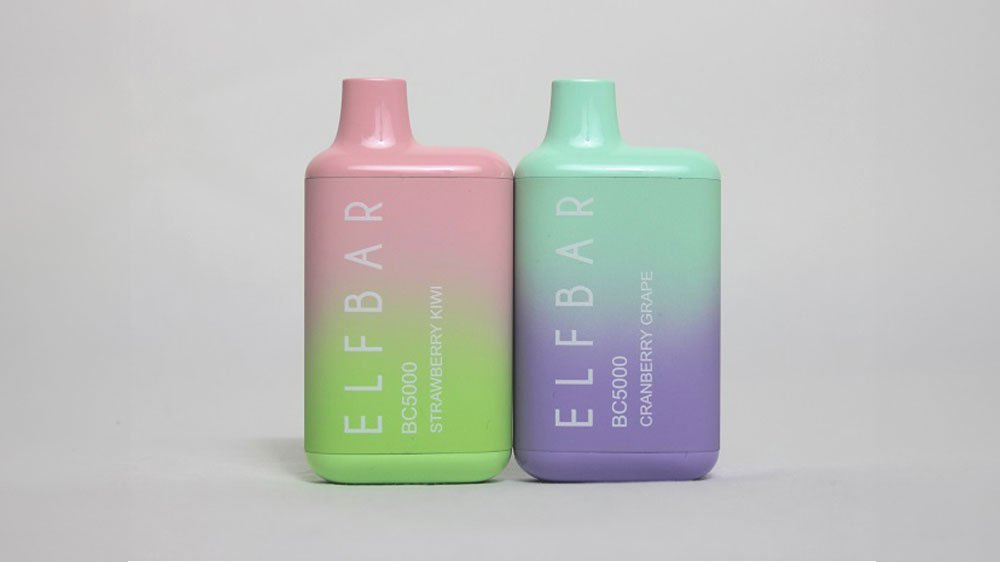 Experience & Usability
The Elf Bar BC5000 is ready to use simply by taking the product out of the packaging. When ready, simply sip on the device. It's that simple. There is no manipulation and other aspects to fiddle with. Once the device stops responding, the battery is probably dead and needs to be charged via the Type-C charging port on the bottom of the device. Until the last juice is used up!
The Elf Bar BC5000 is an excellent e-cigarette that offers a great vaping experience and a wide selection of flavors to tantalize your taste buds. Includes fruity, menthol, and tobacco flavors. Some of the most popular fruit flavors for Elf Bar BC5000 include Strawberry, Blueberry, Watermelon, and Mango. Sweet and refreshing, these flavors are perfect for those who love fruity and juicy flavors. For those who like mint flavor, Elf Bar BC5000 provides a variety of options such as mint and mint tobacco. These flavors provide a cooling and refreshing sensation, perfect for hot summer days. For those who prefer a more traditional flavor, there is also a tobacco flavor option. Elf Bar BC5000 offers classic tobacco, blueberry tobacco, strawberry tobacco, and other tobacco flavors. These flavors provide a rich and satisfying taste, perfect for those who are trying to quit smoking. Overall, the Elf Bar BC5000 offers a variety of flavors to choose from, catering to different preferences and tastes. Whether you like fruity, menthol, or tobacco flavors, there is something for everyone.
Pros and Cons
Pros
Compact size, bright appearance
Flavorful,consistency
Over 45 flavors to choose from
Long-lasting performance
13 mL juice capacity
Quality MTL draw
Rechargeable
Cons
The charging time is long, it takes more than 1 hour to fully charge
User Experience and Testimonials
"The Elf Bar BC5000 is an absolute game-changer. I've tried the strawberry and blueberry flavors and they're phenomenal. Sweet, refreshing, and they don't leave an aftertaste. I'm definitely trying the watermelon and mango next!" – Lucy, 28
"I'm a menthol man, through and through. The cool sensation of the mint and ice flavors is just perfect for the summer. It's like having a mini air conditioner in your mouth!" – Freddie, 32
"As a smoker trying to quit, I was drawn to the tobacco flavors. The classic tobacco flavor of Elf Bar BC5000 is wonderfully satisfying. It's helped me cut down on smoking significantly." – George, 45
So, here's what you get out of other people's mouths! But don't just take their word for it. Give the Elf Bar BC5000 a try and find your perfect puff!
Choosing the Right Flavor
Choosing the right flavor can be a bit like playing spin the bottle – it's all about taking a chance! But don't stress, I've got a handy little rundown to make the process easier.
If you're a fan of all things sweet and juicy, go for the fruity flavors like strawberry, blueberry, watermelon, and mango.
For those who love a chilly rush, the menthol flavors like mint, menthol, and ice are your best bet.
If you're trying to quit smoking or just prefer a more traditional taste, the tobacco flavors like classic tobacco, Virginia tobacco, and Cuban cigar should be right up your alley.
And remember, the world of vaping is all about exploration and personal preference. So go ahead, get your Elf Bar BC5000, and start your flavor adventure!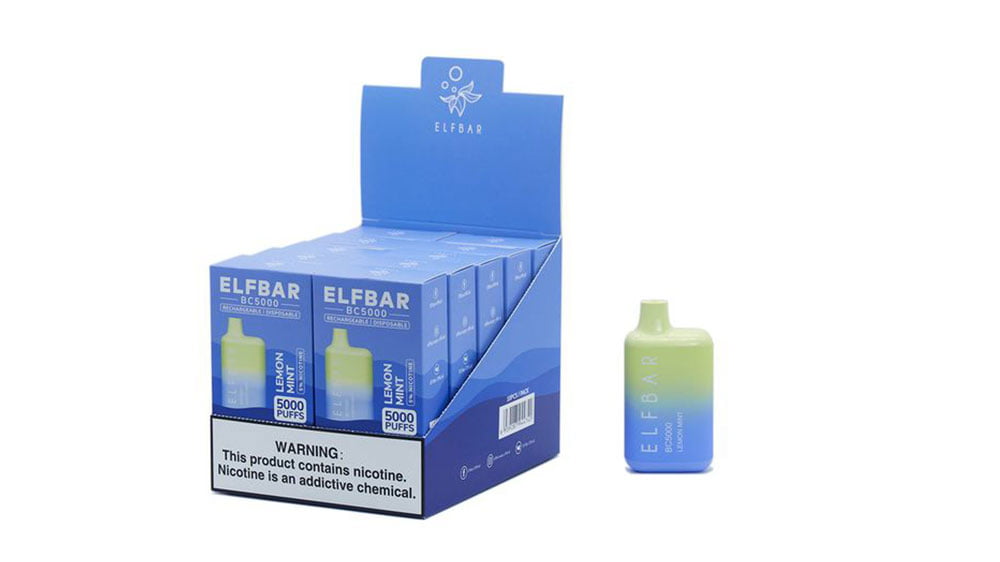 Conclusion
Alright, my fellow flavor adventurers, that's all I've got on the Elf Bar BC5000. Now, it's all up to you. Remember,
The world of vaping is not just a world but an exciting universe full of flavor galaxies waiting to be discovered by daring explorers like you.
Whether you're a newbie or a seasoned vet, the Elf Bar BC5000 is a trusty companion that makes every flavor journey an absolute blast. So, Go ahead, get your Elf BC Bar5000, and start your flavor adventure!
You never know, you might just find your new all-time favorite. And don't worry, if you ever get lost in the sea of flavors, just remember this guide. I'm here to help you navigate. Happy vaping!