Hey there, fellow vape enthusiast! Welcome to our comprehensive review of the Geekvape Wenax K2 Pod Kit. If you're a fan of vaping or just stepping into the vast world of vape gear, this gem is a must-check-out. But don't just take our word for it, let's dive into the details.
"With vaping, it's not just about the smoke. It's an art, a lifestyle, and above all, a way to explore your taste. And when you have the right gear, it only gets better!"
But why, you ask, should you consider the Geekvape Wenax K2 Pod Kit? Well, let's break it down:
Easy to Use: Perfect for both beginners and seasoned vapers.
Compact Design: Fits right in your pocket!
Excellent Flavor: Enjoy your e-juice like never before.
Long-lasting Battery: Because no one likes to recharge in the middle of a vape session.
So, ready to find out more? Strap in, because we're about to take a deep dive into the world of the Geekvape Wenax K2 Pod Kit!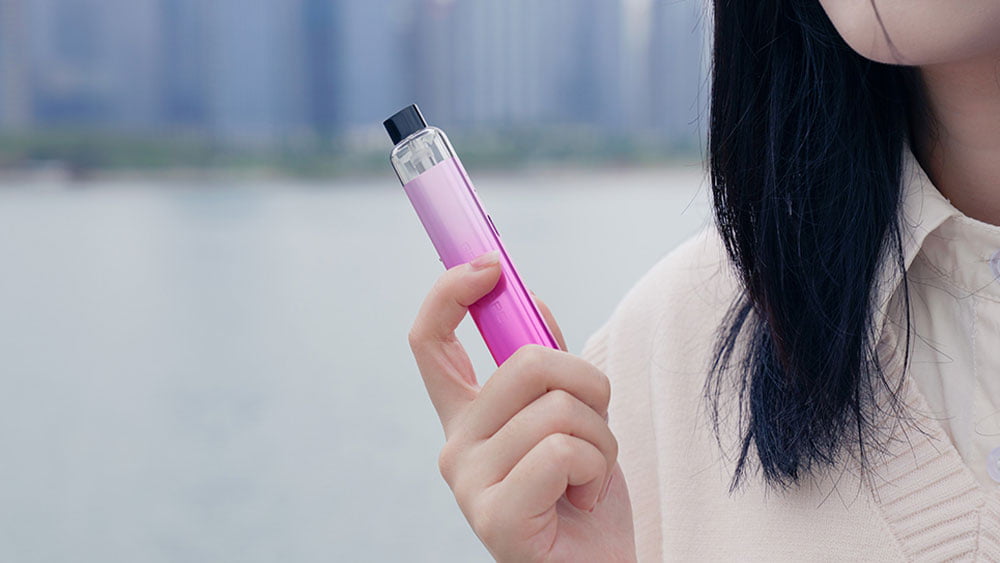 First Impressions of the Geekvape Wenax K2 Pod Kit
First impressions matter, and the Geekvape Wenax K2 Pod Kit makes a strong one. As soon as you hold it in your hands, you immediately notice its sleek design and light weight. But, let's not get carried away by the aesthetics alone, because this little gadget has a lot more to offer!
Design: Its design is simple yet elegant. This is not a device that screams for attention, but rather impresses with its understated and classy look.
Weight: The lightness of the Wenax K2 is surprising. It's so light, you might even forget it's in your pocket. But don't worry, despite its feather-like weight, it doesn't compromise on robustness.
Feel: The smooth, tactile finish feels comfortable in the hand, making it a pleasure to use.
Remember, a great vaping device isn't just about the looks or even the specs on paper. It's about how it makes you feel. And the Geekvape Wenax K2 Pod Kit, well, it feels pretty darn good!
Box Contents
1 x Wenax K2 Device
1 x 0.8Ω K1 Cartridge (pre-installed)
1 x 1.2Ω K1 Cartridge
1 x USB Type-C Cable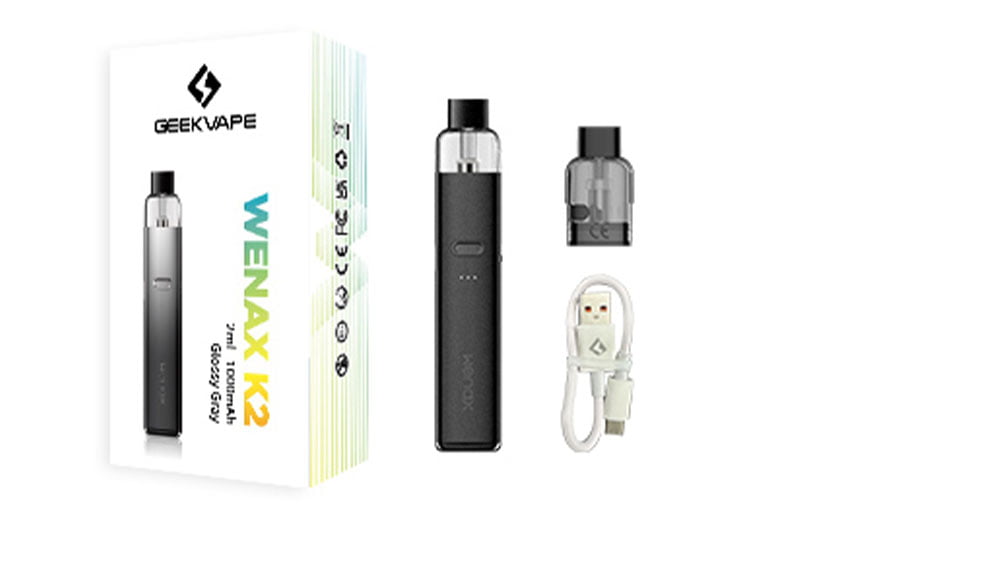 Specifications
Size: 115mm high, 11mm wide, 22mm long
Power output: 7-18W
Side Filling System
Working temperature: -10°C to 45°C
Coil resistance: 0.8/1.2
Battery capacity: 1000mAh
Charging port: Type-C
Power Levels: 3-Tiered Power Output
Accidental Press Protection: Press the button five times to enable this function
Draw or button activation
PCTG Pod material
2mL Pod vape capacity
Magnetic Pod Connection
Integrated 1.2-ohm coil installation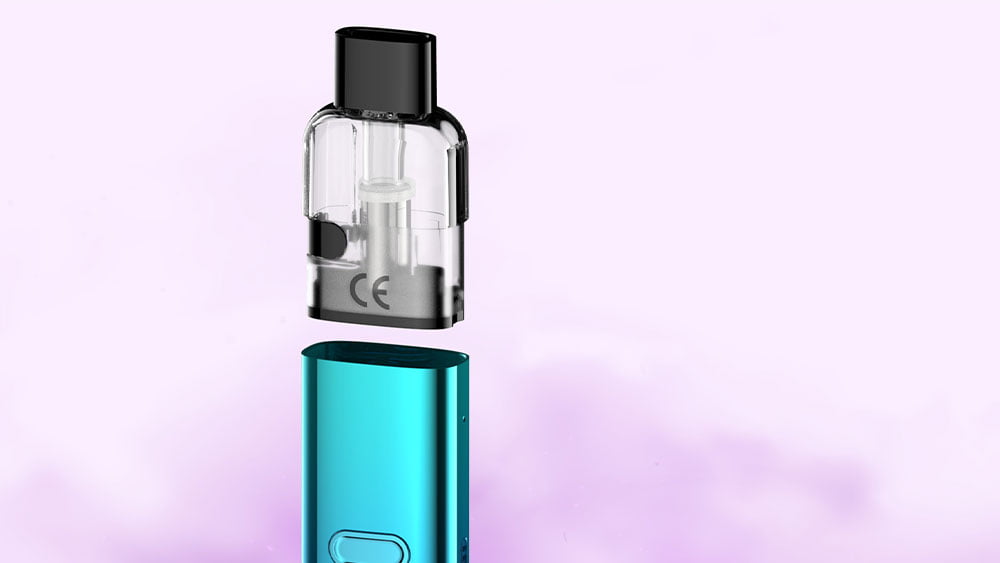 Design & Build Quality
Measuring 115mm in height, 10mm in width, and 5mm in thickness, the Wenax K2's dimensions certainly make it one of the more portable options in Geekvape's lineup. Weighing in at just 36 grams, it's light enough to forget you're carrying it—until you need that next puff, of course.
The Wenax K2 is available in six different colors, including neutral shades like black and grey, and more vibrant options like blue, purple, and pink. You can choose between matte and glossy finishes. I tried out the Matte Gunmetal variant, and I can say that it looks and feels quite sophisticated—remarkable for a vape that costs just around twenty bucks.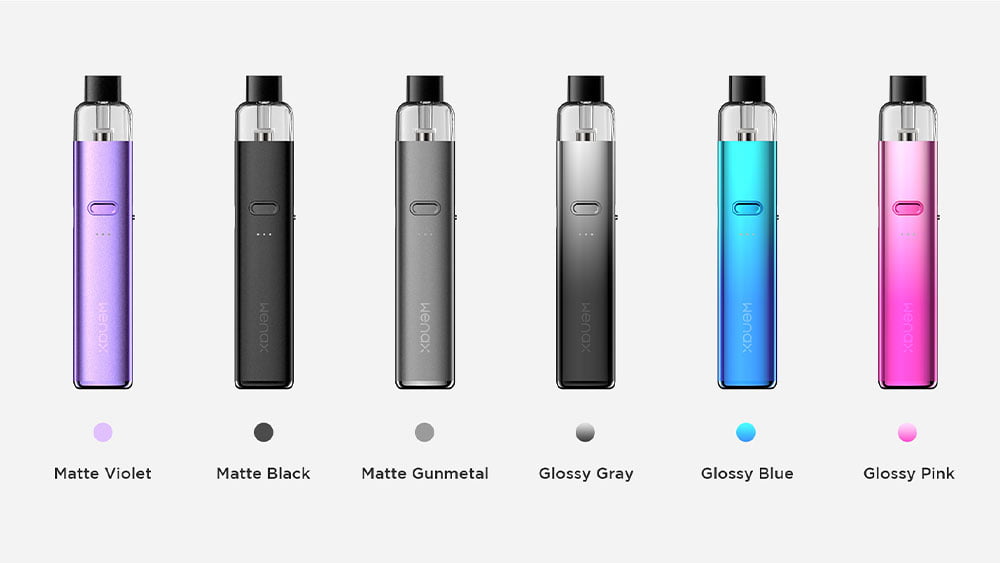 Comparing it side by side with its predecessor, the K1, it becomes clear that the K2 is not just a quick rehash. It feels sturdier in the hand, thanks to a marginally thicker aluminum shell and a larger battery. The build quality seems designed for everyday use, offering a balance between durability and aesthetics.
One of the defining features of the K2 is its detailed battery indicator system. Unlike the K1's single light, the K2 boasts three indicator lights that provide more accurate information on the battery's status.
Also new is an adjustable airflow control on the side of the device. This minor yet impactful addition gives you control over your vaping experience. Opposite to this, you'll find the USB-C port for easy and efficient charging.
In between the airflow control and USB-C port, you'll find a redesigned button. It's slightly smaller than the one on the K1, and it gives a more satisfying "click" when pressed. Although it might seem like a small tweak, this is the kind of attention to detail that indicates a higher build quality.
Features and specifications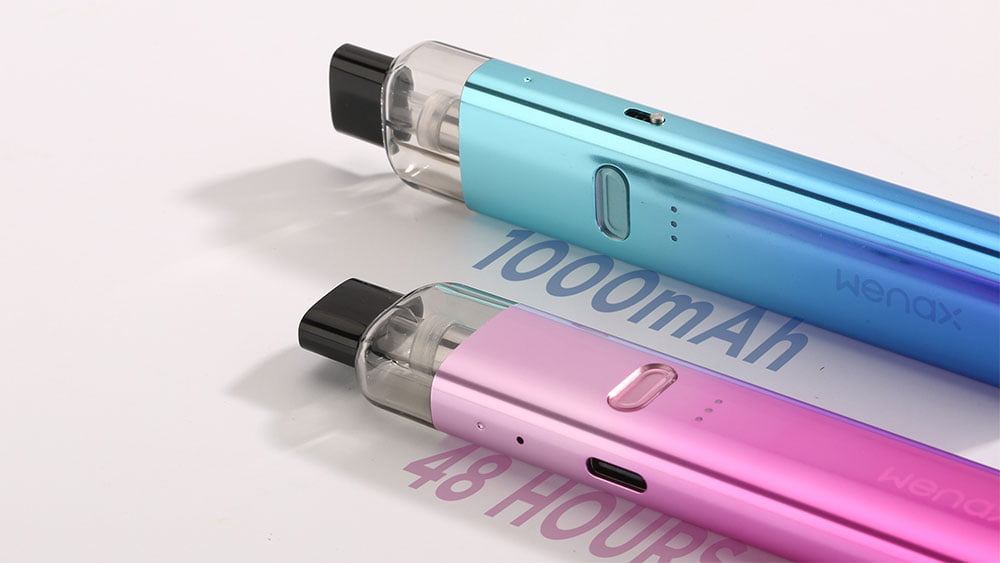 Portable e-cigarette device, perfect for vapers who are always on the go. It features a sleek design that is ergonomically comfortable to hold and easy to use for extended periods of time. One of the key features of the Wenax K2 Pod Kit is its long-lasting battery life. Built-in 1000mAh battery, depending on usage, can last quite a long time. Wenax K2 Pod Kit battery life may vary depending on factors such as wattage setting, frequency and length of use. On average, users can expect the battery to last a full day of moderate use before needing to be recharged. The Wenax K2 Pod Kit also features a USB Type-C charging port for faster and more efficient replenishment. Another great feature of the Wenax K2 Pod Kit is its easy-to-use refillable pod system. The cartridge has a leak-proof design and can hold up to 2 ml of e-liquid, which is enough for a full day of smoking needs. In addition, the pods are compatible with free base and salt nicotine liquids, giving you the flexibility to find the type of e-liquid that best suits your preferences. Excellent function display, product status is clear at a glance, battery status indication: red light (0-30%)/blue light (31%~69%)/green light (70%-100%); output adjustment indication: white – low output/ Blue – medium output/green – high output. Overall, the Geekvape Wenax K2 Pod Kit has impressive battery life, suits the needs of most vapers, and is a solid choice for those who prioritize convenience and portability.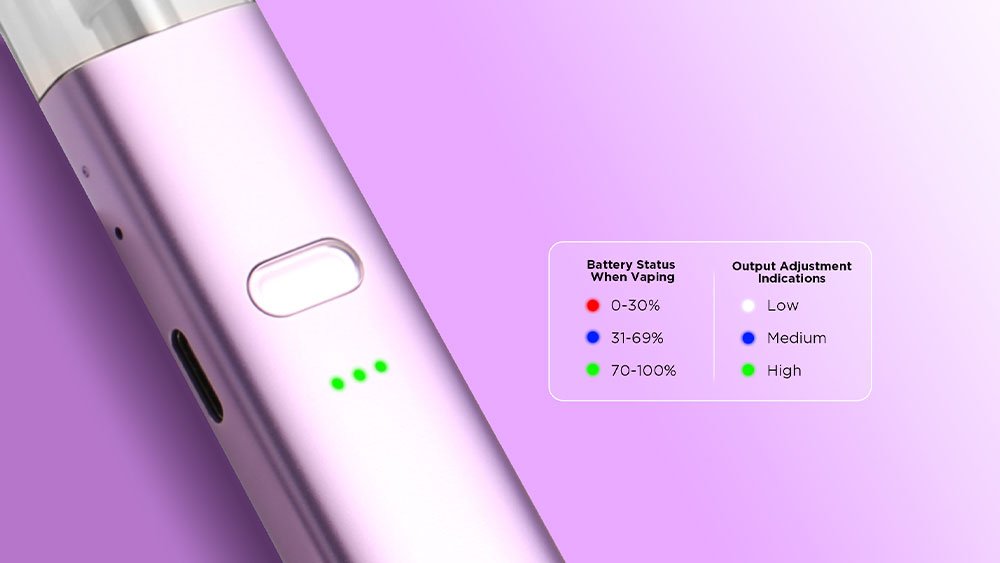 product comparison
The Geekvape Wenax K2 Pod Kit is a great option for those who are looking for a compact and portable vape pod kit. It is comparable to other popular pod kits in the market such as the Caliburn G and the Vaporesso XROS. However, the Wenax K2 has a larger battery capacity of 1000mAh, which means longer vaping time before needing to recharge. Another advantage of the Wenax K2 is its adjustable airflow feature, which allows users to customize their vaping experience according to their preferences. This is not a common feature in other pod kits in the market. The Wenax K2 also has a simple and user-friendly design, making it easy for new vapers to use. It has a single button for firing and turning the device on and off, and the pods are easy to refill and replace. The device also has an LED indicator that shows the battery life and charging status. Overall, the Geekvape Wenax K2 Pod Kit is a solid choice for those who are looking for a reliable and customizable vape pod kit. Its larger battery capacity and adjustable airflow feature set it apart from other pod kits in the market, making it a great option for both new and experienced vapers.
Pros and Cons
Pros
Small, slim, and lightweight design
Feels solid and well-built in your hand
Medium to tight MTL draw
Precise adjustable airflow
Excellent 1000mAh battery capacity
Coils produce good flavor and last well
Possible to use for RDL vaping
Pod transparent design
The shape of the drip tip was ideal for me
Cons
The oil filler neck and plug are too small
Not conducive to upright placement
Final Thoughts & Recommendations
If you're on the hunt for a vape pod kit that's not only compact and portable but also packs a punch, the Geekvape Wenax K2 Pod Kit could just be your new best friend. It's got everything you need and then some.
"Its larger battery capacity and adjustable airflow feature set it apart from other pod kits in the market."
Let's get this straight. Your average pod kit pales in comparison. This beauty's 1000mAh battery capacity means you can keep pumping until you run out of gas, or at least until you need to recharge. And let's not forget its adjustable airflow feature, which is like the cherry on top of a delicious sundae. Not every pod kit on the market has this feature.
Easy to use: The Wenax K2 isn't playing hard to get. It's got a simple design that's pretty straightforward, even for new vapers. No need to pull out the instruction manual every time you want a puff.
User-friendly: One button for firing and turning the device on and off. It's as easy as pie. The pods are a no-brainer to refill and replace too.
LED indicator: Worried about running out of battery? Not with the Wenax K2! The LED indicator has your back, showing the battery life and charging status.
So, why settle for mediocre when you can have the Geekvape Wenax K2 Pod Kit? It's reliable, user-friendly, and customizable. Whether you're a newbie or an old hand at vaping, this one's a keeper!