Hey, vape enthusiasts! Have you ever felt stuck in the whirlpool of numerous puff options and can't find the right one for you? Well, brace yourselves, as we're about to eliminate those worries with the RandM Tornado 9000 Puffs. But what makes this device stand out? Let's dive in!
overview
The RandM Tornado 9000 disposable vape kit distinguishes itself with its personalized design. Adorned with quirky zombie graphics and equipped with RGB lighting, it stands out in a crowd but might not be for everyone, especially if you like your vaping low-key! Its compact size allows you to easily slip it into your pocket, making it perfect for busy vapers. The look, feel, and overall build of the RandM Tornado make it a high-quality, durable vape device.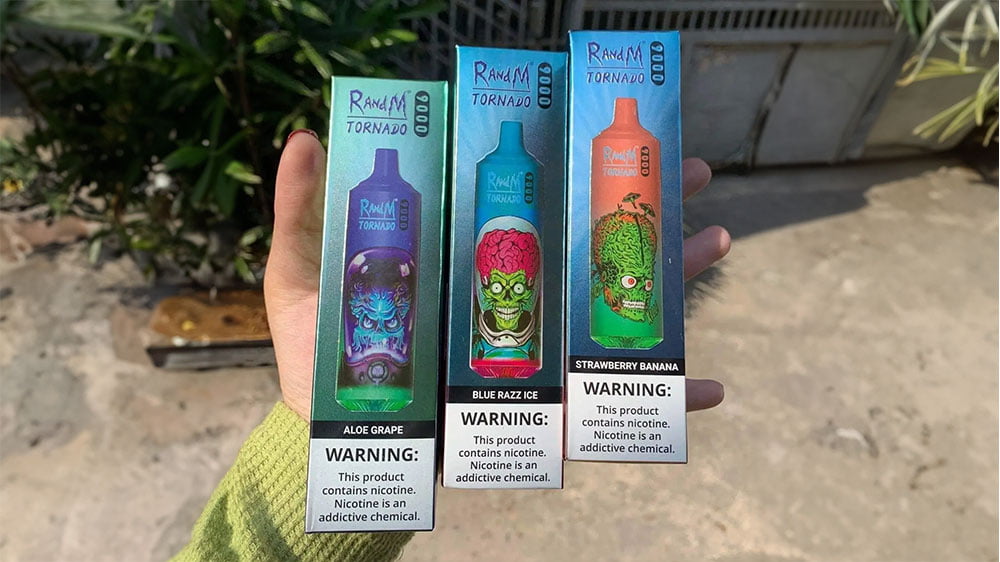 what's in the box
The first thing that impressed me was the design of this device. It's stylish, modern, and very different from other vapes I've used. But the design isn't just for aesthetics. Its ergonomic shape fits perfectly in my hand, making it very comfortable to hold!
RandM Tornado 9000 Puffs Disposable Vape: The main component of the kit is the disposable vape device itself. It features unique zombie print designs, RGB lighting, and a sleek, compact form.
User Manual: Don't worry, they've got you covered. The user manual guides you through each step to ensure you get the most out of your new vape toy.
(Please note that the Type-C charging cable required to charge the device is not included in the kit. You will need to source it yourself.)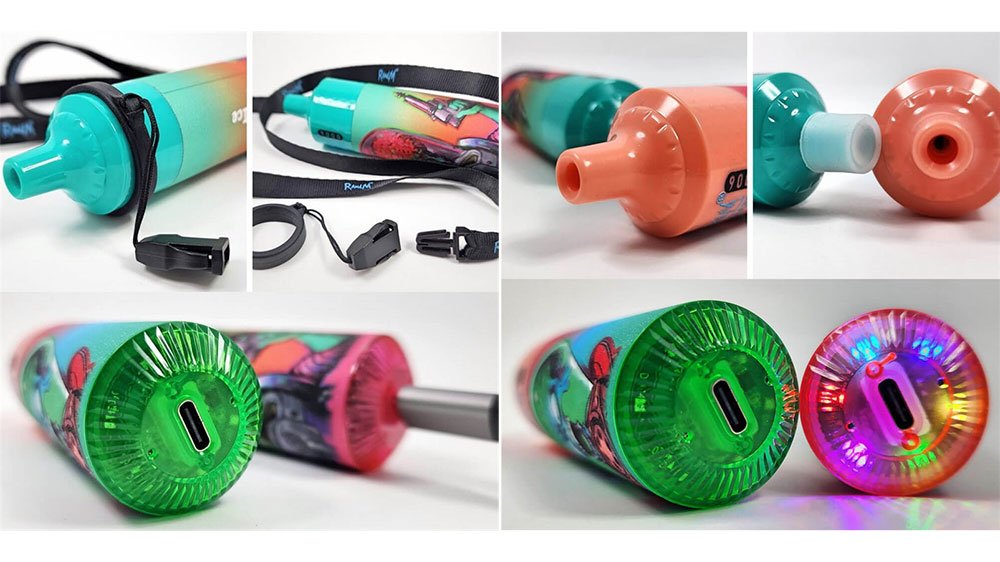 Features and Specifications
Don't be fooled by its compact size. The RandM Tornado packs quite a punch:
Long-lasting battery: The built-in 850mAh battery lets you enjoy hours of uninterrupted fun. Like the Energizer Bunny of vapes!
The RandM Tornado 9000 Puffs comes pre-loaded with 18 ml of vape juice, offering up to 30 different flavors to choose from. Whether you're a fan of classic tobacco or love the sweetness of fruit-flavored mixes, there's something for everyone.
A large number of puffs: Up to 9000 puffs. Yes, 9000 puffs! This is far beyond many devices.
Portable Size: Its compact design allows it to fit into a pocket, making it highly portable.
Quality Material and Build: Made from high-quality material, it is sturdy and durable.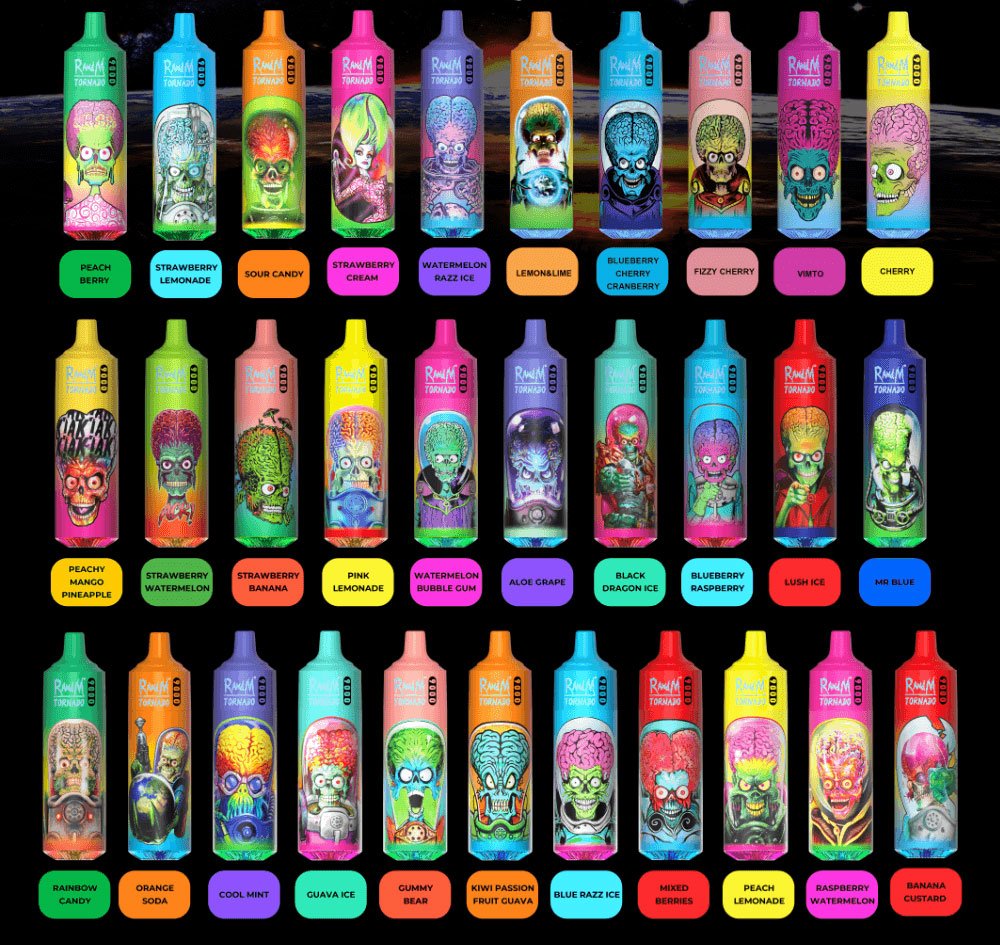 Experience and Usability
The RandM Tornado 9000 disposable vape kit is easy to operate and user-friendly. It features a draw-activated function, meaning there are no buttons to press. Just take a puff on the mouthpiece, and the device will automatically activate, delivering a smooth and satisfying vape. This simplicity makes it an ideal choice for beginners and those who enjoy a hassle-free vaping experience. No need to control the power, airflow, or resistance level—just draw and puff!
The highlight of the RandM Tornado 9000 is its 0.8-ohm mesh coil, combined with 2-5% nicotine salt e-juice, offering a clean, smooth draw. What's more important than flavor in a vaping product?
Pros and Cons
Pros
Wide range of flavors, featuring 38 unique tastes to satisfy different palates.
An impressive 850mAh battery ensures long-lasting usage of up to 9000 puffs.
Ergonomic and lightweight, very comfortable to hold and carry.
Competitive pricing offers tremendous value for its features.
Competitive capacity pricing offers tremendous value for its features and capacity.
Personalized patterns.
LED lighting effects.
Cons
Airflow: Since there is no airflow control, you cannot customize your draw, making it most suitable for direct lung inhalation only.
Charging Cable: The RandM Tornado 9000 disposable vape kit requires a Type-C charging cable for recharging. However, the kit does not include a charging cable; you'll need to provide your own.
User Experience and Reviews
Let's dive deeper into user experiences and reviews on the RandM Tornado 9000 Puffs. Your fellow vape players have shared their thoughts, and we've curated some for you. Keep in mind, that experiences can be subjective, and your experience might differ.
"I love the convenience of the RandM Tornado. It's very simple to use and is perfect for use on the go. However, I do wish it was refillable. I feel guilty every time I have to throw it away." – Anonymous User
"The flavors are unique and tasty, but I miss being able to customize my device like I could with older vapes. If you like customization, this might not be for you." – Vape Veteran
"The vapor production is decent, not the best I've seen, but good enough. The non-adjustable settings are a downside, but the quality of the flavors makes up for it." – Flavor Enthusiast
Eco-conscious User:

"I like the RandM Tornado, but I can't ignore its impact on the environment. I wish they would make a more eco-friendly version."

Expert Opinion:

"The RandM Tornado 9000 Puffs is a great entry point for those new to vaping. It's user-friendly, easy to carry, and offers a variety of flavors. However, its lack of customization and refillability may be a significant drawback for experienced vapers. For those who are eco-conscious, the disposable nature of the device could be an issue." – Vape Guru
So now you know all about the pros, cons, and the smoke around RandM Tornado 9000 Puffs. Considering others' experiences is important, but remember, the best judge of a product is you. So go ahead, give it a try and see if it changes your world!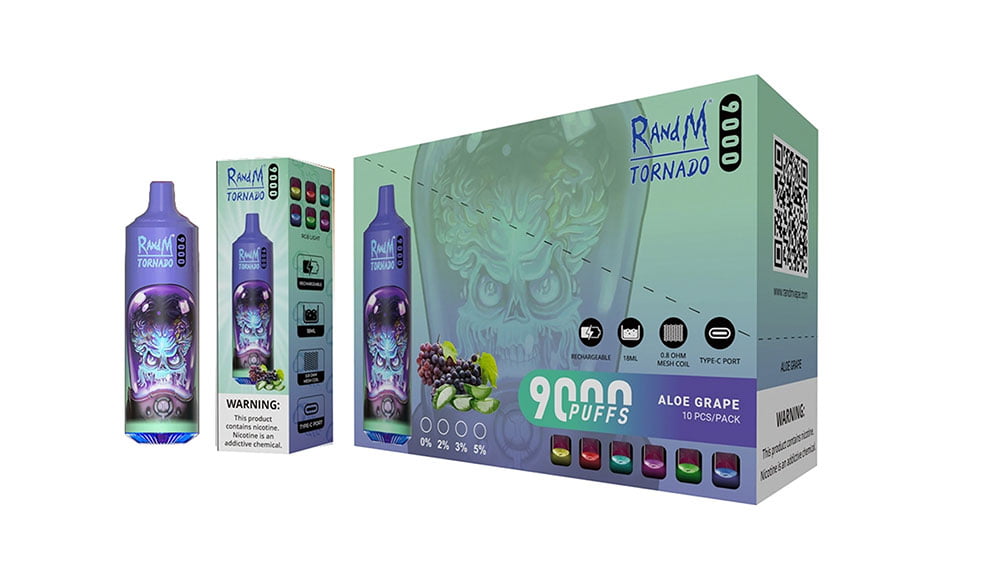 Conclusion 
Well folks, that wraps up our thrilling journey through the land of the RandM Tornado 9000 Puffs. We've navigated through its features, weighed the good against the not-so-good, and even peeked at its puff prowess. 
Remember, the most valuable review is the one you pen yourself after trying the product. Don't shy away from giving the Tornado 9000 puffsa whirl – it might just spin your world around!
Is the Tornado 9000 your next vaping voyage?
Are you intrigued by its promises of power and longevity?
Or maybe you're a little hesitant, wondering if this will work for you?
All these questions are valid, and only one person can answer them – that's you, my friend. Whether you're a vaping novice or a seasoned pro, the Tornado 9000 is a beast waiting to be conquered. So gear up, take a puff, and determine if this is the vape for you. 
| | |
| --- | --- |
| Feature | Review Summary |
| Puff Count | Impressive longevity with 9000 puffs |
| Power | Enough horsepower to keep you vaping |
| Overall Experience | excellent |
So here we are, at the end of this smoky trail. Remember, your vaping journey is just that – your journey. The RandM Tornado 9000 might just be a blip on your radar, or it might be the storm you've been waiting for. Only one way to find out, so go ahead and give it a try!