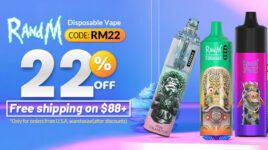 Expired
Exclusive Offer on RandM Series Disposable Vapes – 22% OFF!
Looking for a vaping experience like no other? Look no further than VapeSourcing.com, where the RandM Series Disposable Vapes are now available at an unbeatable 22% discount! Elevate your vaping game with cutting-edge technology and an extensive range of flavors.
Featured Products:
RandM Digital Box 12000 Fumot Vape
RandM Tornado Box Disposable Vape Kit 10000
RandM Tornado 10000 Plus Disposable Vape Kit 10000
RandM Magic Disposable Vape Kit 8000 & 9000 Puffs
RandM Supbliss Bingo Disposable Vape Kit 8000
RandM Legend Disposable Vape Kit 10000 Puffs
RandM Vome Monster Disposable Vape Kit 10000
RandM Tornado 7800 Disposable Vape Kit 7800
RandM Rasta Disposable Vape Kit 5500 Puffs
RandM Sunax Disposable Vape Kit 21000 Puffs
RandM Game Box 5200 Puffs Disposable Vape
RandM Monster Vape Disposable Kit 7000 Puffs
RandM Tornado 10000 Puffs Rechargeable Disposable
RandM Tornado 9000 Puffs Disposable Vape
RandM Tornado 7000 Puffs Disposable Vape
Rand M Sunax Pod Cartridge 21000 Puffs
Why Choose RandM Series?
Unmatched Puff Counts: Experience extended satisfaction with high puff counts, ranging from 5200 to an impressive 21000 puffs.
Diverse Flavors: Indulge in a variety of flavors, ensuring there's something for every palate.
Cutting-Edge Technology: RandM Series brings you the latest in vaping technology for a seamless and enjoyable experience.
Rechargeable Options: Explore the convenience of rechargeable options for a sustainable vaping experience.
Don't miss out on the 22% discount – shop now! CODE:RM22