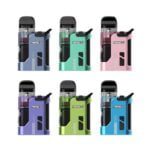 Introducing the SMOK Propod GT Pod Kit, a sleek and versatile vaping device designed to deliver a smooth and customizable experience. Key features include an adjustable airflow, convenient side-fill system, and compatibility with Novo/Novo 2/Novo 2X Pod Cartridges. Stay informed with the LED indicator light, providing real-time feedback on your device's status, ensuring confidence in your vaping.
Key Features:
Smooth Vaping: Enjoy a seamless vaping experience.
Adjustable Airflow: Tailor your airflow to suit your preferences.
Side Fill System: Easily refill your pod cartridges.
Compatibility: Works with Novo, Novo 2, and Novo 2X pod cartridges.
LED Indicator Light: Stay informed with real-time device status feedback.
Specifications:
Dimensions: Compact design measuring 79.6mm x 47.2mm x 18.6mm.
Battery Capacity: A powerful 700mAh battery.
Input Voltage: Operating within the range of (3.3V-4.2V)±0.2V.
Voltage Range: Adjustable between 3.5-4.1V.
Standby Current: Ultra-low standby current, consuming less than 50uA.
Resistance Range: Supports a range of 0.6ohm to 2.5ohm.
Chassis Material: Sturdy Zinc Alloy construction.
Power Range: Maximum power output of 22W.
Charging: Convenient Type-C charging with 5V±0.2V voltage and a maximum current of 0.72A.
Pod Capacity: Each pod holds 2ml of e-liquid.
Construction: Made with durable PCTG material.
Package Includes:
1 x SMOK Propod GT Device
2 x SMOK Novo Pod Meshed (0.8ohm and 0.6ohm) 2ml
1 x Lanyard
1 x Type-C Cable
1 x User Manual
Elevate your vaping experience with the SMOK Propod GT Pod Kit, offering versatility, performance, and ease of use in a compact and stylish package.