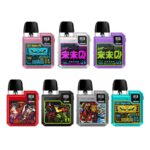 Digiflavor Digi-Q Pod Kit
Introducing the DIGIFLAVOR Digi-Q kits, a cutting-edge vaping solution featuring a sleek design that marries stylish graphics with lightweight aluminum construction. The Digi-Q Pod Kit offers precise control over airflow and temperature, boasting a vibrant HD OLED display with RGB lighting. With a robust 1000mAh battery, it supports both auto-draw and button-triggered operations and is fully compatible with Geekvape Q Cartridges for effortless top-filling. This innovative pod kit provides the ultimate in convenience and customization.
Key Features:
Precision Control: Adjust airflow and temperature to your exact preferences.
Vibrant Display: Enjoy a clear 0.32-inch OLED display with eye-catching RGB lighting.
Versatile Operation: Switch between auto-draw and button-triggered vaping.
Geekvape Compatibility: Seamlessly use Geekvape Q Cartridges for easy top filling.
Ample Battery: A 1000mAh battery ensures extended vaping sessions.
Specifications:
Size: Compact dimensions at (H)70.96mm x (L)48.80mm x (W)16.80mm.
Cartridge Capacity: Each cartridge holds 2.0ml of e-liquid.
Coil Resistance: Compatible with 0.6Ω and 1.2Ω coils.
Battery Capacity: A robust 1000mAh battery for reliable performance.
Charging: Convenient Type-C charging at 5V.
Output Temperature: Adjustable temperature range from 67°C to 307°C.
Display Screen: Features a 0.32-inch OLED display with captivating RGB lighting.
Battery Status: RGB lights indicate battery status – Green for 61-100%, Blue for 31-60%, Orange for 11-30%, and Red for 0-10%.
Overtime Protection: Prevents excessive use with an "Over Time" warning and breathing Red RGB lights.
Package Includes:
1 x DIGIFLAVOR Digi-Q Device
2 x Geekvape Q Cartridges (2ml) – Pre-installed with 0.6Ω coil; Spare with 1.2Ω coil
1 x Lanyard
Experience the future of vaping with DIGIFLAVOR Digi-Q kits, where style, precision, and performance come together to provide an exceptional vaping experience.