Elf Bar Pi9000 is a new large-puff Vape product launched by Elf Bar. It can support up to 9000 puffs, which is amazing. It's like the marathon runner of vaping! It is more durable than the popular Elf Bar BC5000. Can meet your ultimate needs.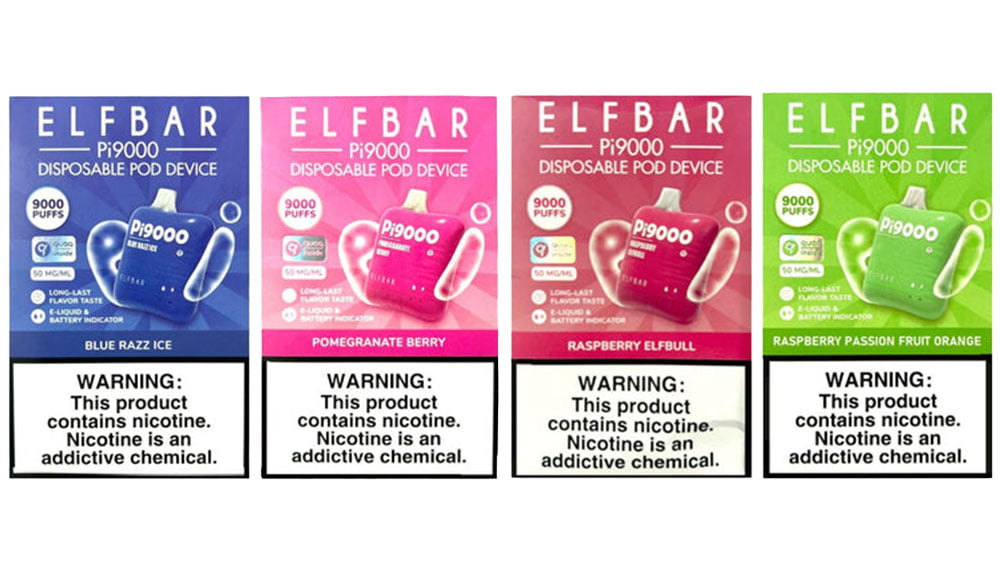 Elf Bar Pi9000 disposable e-cigarette is pre-loaded with 19ml of e-liquid. Through the integrated mesh coil, the taste is exquisite and powerful. There are multiple versions of nicotine concentration designs on the market to choose from. This mainly depends on your needs. Elf Bar Pi9000 The smoke provided is smooth. With satisfying suction and perfect performance, the rechargeable 650mAh battery supports a full day of energy needs. It looks like a mini pillow and has a translucent gargoyle for easy viewing of condensation. Featuring liquid and battery indicators, the Pi9000 is perfect for checking equipment status and exploring light, juicy flavors. So whether you're a vaping veteran or just starting to explore the cloudy world of vaping, buckle up because we're about to take you on a delicious journey.
First Impressions & Unboxing
First things first, upon unboxing the Elf Bar Pi9000, you're hit with its sleek design. The vibrant colors scream 'pick me up', while the compact size is perfect for on-the-go vaping. It feels like you've just unwrapped a present on Christmas morning, but instead of a pair of socks, you've got a high-performance vape in your hands. Don't you just love it when that happens?
Like other disposables, you can start smoking as soon as you open the box and tear open the packaging. There's no charging cable in the box, but the Elf Bar Pi9000 supports USB-C charging. These devices should be fully charged after unboxing, but if the device you buy is far from the production date, the device may be in a power-feeding state, but you can always use a USB-C cable to fully charge it. I am now The device used is fully charged, so there is no such problem. The Elf Bar Pi9000 is equipped with an LED light prompt that can display the battery status. I will mention this issue later.
Design & Build Quality
The Elf Bar Pi9000 disposable e-cigarette also features a puff activation mechanism. This means users simply take a puff on the device to activate the heating element and produce vapor. This eliminates the need for any buttons or complicated settings, making the setup very convenient, especially for beginners or those who prefer a simple vaping experience. Elf Bar Pi9000 disposable e-cigarette tobacco also offers 26 different flavor options, including fruity, menthol and tobacco flavors, etc. This ensures that users can find a flavor that suits them and enhances their e-cigarette experience. Another notable feature of the Elf Bar Pi9000 is its compact design. It's lightweight and portable and can easily be carried in a pocket or bag without adding too much bulk. For those who want to be able to vape at any time wherever they go, the Elf Bar Pi9000 disposable e-cigarette is a popular choice among customers who enjoy the convenience of vaping. One of its key features is the impressive 9000 puff capacity, which means users can enjoy a long-lasting vaping experience while constantly consuming to recharge or refill the device. This becomes a vaping guarantee for those who are always on the go or prefer a hassle-free e-cigarette option.
Features
19ml Pre-Filled Vape Juice
4%(40mg) / 5%(50mg) Nic Salt
Rechargeable 650mAh Battery
USB-C Port
Approximately 9000 Puffs
Mesh coil
Draw-Activated
Liquid and Battery Indicators
Elf Bar Pi9000 Disposable Vape Flavors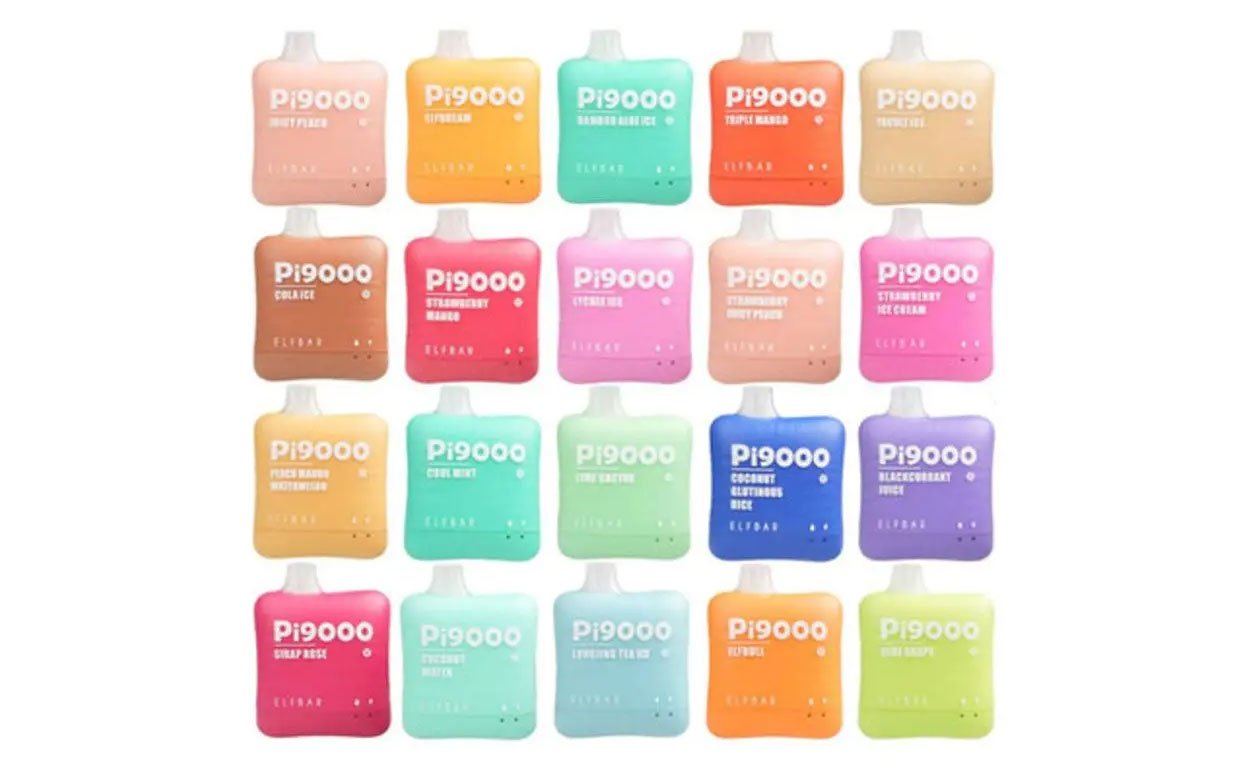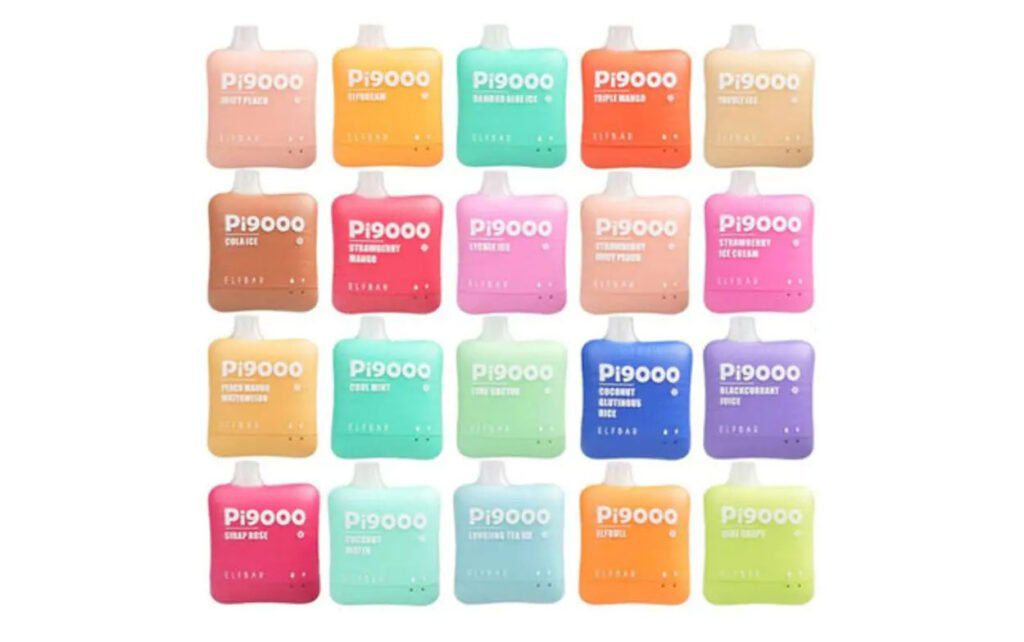 The Elf Bar Pi9000 Disposable Vape offers a wide range of flavors to cater to different preferences. Some of the available flavors include fruity options like strawberry, watermelon, mango, and blueberry. These fruity flavors provide a refreshing and sweet vaping experience. Additionally, there are also menthol flavors available such as mint and ice. These menthol flavors offer a cool and invigorating sensation when vaping. Lastly, for those who prefer a more traditional taste, there are tobacco flavors available as well. These tobacco flavors aim to replicate the taste of a traditional cigarette, providing a familiar and satisfying vaping experience.
ALOE GRAPE
Flavourful and perfectly fun grape flavour with a slippery aloe vera in the background to add more juiciness and freshness in the background. Aloe vera and Grape make a super combination of flavours.
SIRAP ROSE
Get the delicate and flower quality of rosewater with a sweetish syrupy background. Makes you feel like vaping roses. A totally unique experience if you have not tried it before.
BLACKCURRANT JUICE
juicy ripe zingy blackcurrants – a taste that is easy to like, simple to vape and delightful to the senses.
STRAWBERRY MANGO
An aromatic combination of ripe mangoes and strawberries to tantalise your tastebuds, this is a top seller from Elf Bar since day one.
TRIPLE MANGO
Not single, not double but a triple shot of mango. Giving you a sweetish and aromatic top note of mango, a solid middle body of yellow mango and a deep richness of a secret mango.
LYCHEE ICE
The amazing thirst quenching characteristic of lychee will bring a smile to your face. Crystal clear sweet and tropical tasting lychee will have you relaxed and satisfied in just a couple of deep puffs.
JUICY PEACH
Brilliant sweet georgia peaches for a fruity delight with a cooling finish.
COCONUT WATER
The taste of coconut water sold on the side of the street in Bangkok. Wow, uncanny resemblance.
ELF DREAM
A strawberry based flavour with big spoonfuls of sweet cream added to the mix, with a light cooling exhale.
LIME CACTUS
A delicious lime infused lemonade with juicy cactus for a surprisingly fresh feel.
PEACH MANGO WATERMELON
Experience a tantalizing tropical trifecta with our Peach Mango Watermelon vape juice! Juicy peach, sweet mango, and refreshing watermelon combine in perfect harmony to create a fruity explosion in your mouth. This is a flavor that will leave you feeling refreshed and satisfied with every puff.
ELF BULL
Get ready to be energized with our Elf Bull vape juice! This flavor is inspired by the famous energy drink and packs a punch of fruity and sweet flavors with a subtle touch of mint. It's perfect for those looking for a burst of energy and a sweet treat all in one.
LYCHEE TEA
Indulge in the sweet and fragrant flavor of our Lychee Tea vape juice! This exquisite blend features the delicate taste of lychee fruit combined with the light, refreshing taste of tea. It's the perfect flavor to relax and unwind with after a long day.
STRAWBERRY ICE-CREAM
Satisfy your sweet tooth with our Strawberry Ice-Cream vape juice! This creamy and delicious flavor features the taste of ripe strawberries blended with smooth and creamy ice cream. Every puff is like a spoonful of pure joy.
COLA ICE
Get your soda fix with our Cola Ice vape juice! This flavor is a classic and beloved by many. With the perfect balance of sweet and fizzy cola flavors, finished with a cool and refreshing blast of menthol, it's the perfect pick-me-up for any time of day.
YAKULT ICE
Indulge in a unique and exotic flavor experience with our Yakult Ice vape juice! Inspired by the popular Japanese probiotic drink, this flavor combines the tart and tangy taste of Yakult with a refreshing hint of ice. It's a flavor that's both delicious and healthy, making it the perfect all-day vape.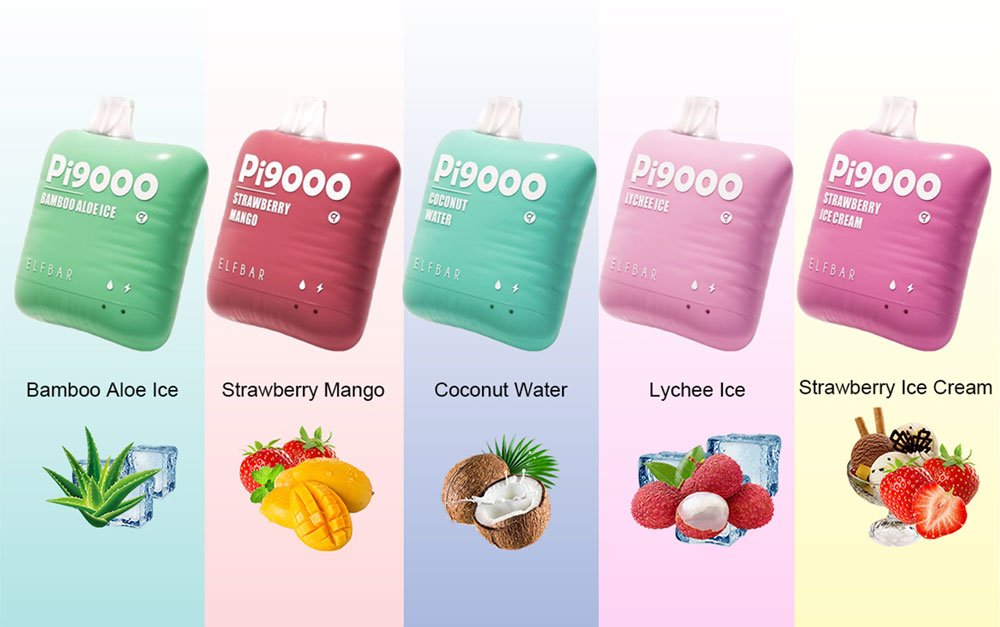 It's important to note that the availability of flavors may vary depending on the region and the retailer. Some flavors may be more popular and readily available, while others may be limited in stock. It's always a good idea to check with the retailer or manufacturer to ensure the availability of specific flavors. Additionally, it's worth mentioning that the Elf Bar Pi9000 Disposable Vape may introduce new flavors periodically, providing customers with a variety of options to choose from and keeping their vaping experience exciting and fresh. In addition to the aforementioned flavors, the Elf Bar Pi9000 Disposable Vape also offers some unique and creative flavor options. For those who enjoy dessert-inspired flavors, there are options like vanilla custard, caramel, and chocolate. These flavors aim to replicate the taste of popular desserts, providing a sweet and indulgent vaping experience. Furthermore, there are also beverage-inspired flavors available such as coffee, cola, and energy drinks. These flavors aim to mimic the taste of popular beverages, offering a unique and enjoyable vaping experience.
Battery Life & Charging
In terms of battery life, the Elf Bar Pi9000 disposable e-cigarette is generally considered to be on the higher end compared to many other disposable e-cigarettes on the market. This particular model usually comes with a larger battery, sometimes as high as 900mAh or larger. However, the 650mAh built-in battery is still slightly insufficient relatively speaking, but fortunately it supports fast charging. The 650mAh battery LED light is still yellow after I have used it for a whole day, which can meet my needs for a whole day. Therefore, its battery life is great, and you don't want to worry about the battery draining out quickly for daily use.
LED indicator light, No more unexpected depletion, 2 LED lights tell you when to recharge or get a new one.
| | |
| --- | --- |
| E-liquid | Battery |
| Green – 100%-50% | Green – 100%-60% |
| Yellow – 50%-5% | Yellow – 60%-20% |
| Red -Less than 5% | Red – Less than 20% |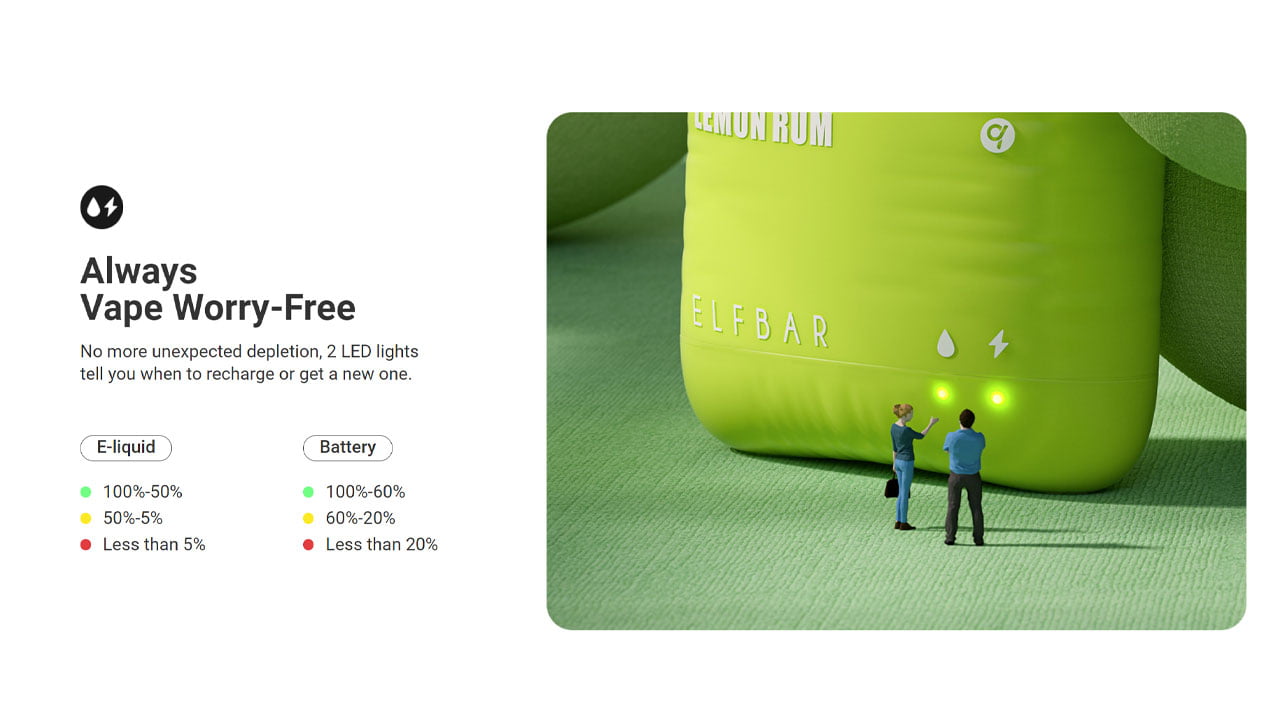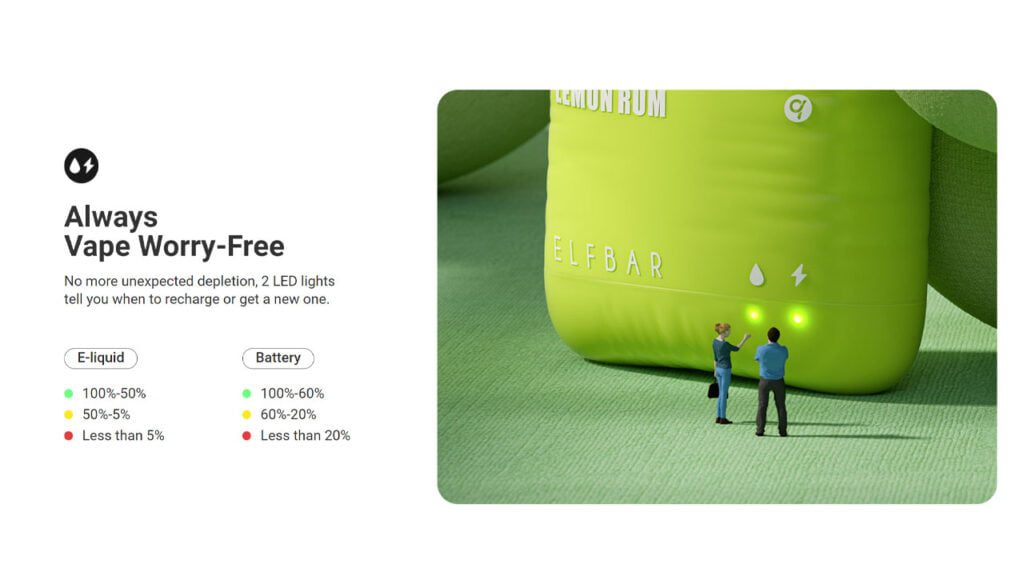 Pros and Cons
Elf Bar Pi9000 offers vapers a top-quality, portable and easy-to-use device. This disposable vape stands out for its long-lasting battery life and high puff count, providing users with up to 9000 puffs per device. It is a perfect companion for those who enjoy a hassle-free, yet satisfying vaping experience.
Let's delve deeper into the pros and cons of this product.
Pros
Convenience: Being a disposable device, it offers users the convenience of not having to refill e-liquid or change coils. Simply start using it right out of the box. Draw-Activated
Flavor Variety: The Elf Bar Pi9000 comes in a wide range of flavors to cater to different taste preferences.
Portability: The compact and lightweight design of the Elf Bar Pi9000 allows for easy transport and use, making it an ideal choice for vapers on the go.
9000 puffs: built-in 19ml juice, supports 9000 puffs
Rich steam output, excellent mesh coil design, immersive flavor experience until the last sip
LED indicator light, No more unexpected depletion, 2 LED lights tell you when to recharge or get a new one.
Cons
Slightly heavy
For a 9000 Puffs device, the 650mAh battery is slightly small
Higher price than some other disposables
Final Thoughts & Recommendations
The Elf Bar Pi9000 disposable e-cigarette has proven to be an excellent product that provides a seamless and satisfying vaping experience. While most customers have positive experiences with the Elf Bar Pi9000, there are some minor complaints. Some users have mentioned that the device occasionally leaks or has airflow issues. However, these examples appear to be rare and isolated. And with the improvement of production technology, I believe these situations should change. There was no leakage in the several flavors I experienced.
Elf Bar Pi9000 has a compact and portable design. It can be easily carried in your pocket or purse, and has a rich variety of flavors that can meet the taste needs of all types of customers. Its 9,000 puffs of smoking time can greatly reduce our anxiety about replenishing e-liquid. The device is easy to use with no buttons or settings to adjust, making it very convenient for beginners or those who prefer a hassle-free vaping experience. Therefore, I recommend everyone to buy it!