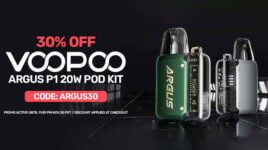 Expired
EIGHTVAPE UNLEASHES UNBEATABLE PROMOTION: ENJOY 30% OFF VOOPOO ARGUS P1 20W POD KIT WITH CODE "ARGUS30"
EightVape, a premier online destination for vaping enthusiasts, is thrilled to announce an exclusive promotion that will leave vapers delighted. For a limited time, customers can revel in a remarkable 30% discount on the VooPoo Argus P1 20W Pod Kit by using the promotional code "ARGUS30" during the checkout process.
DISCOVER THE VOOPOO ARGUS P1 20W POD KIT:
Powered by an 800mAh internal battery, the Argus P1 Kit features the innovative Argus pod cartridge, boasting integrated 0.7ohm and 1.2ohm coils that promise flawless vapor and rich flavor. With a generous 2ml vape juice capacity, this device ensures a satisfying and long-lasting vaping experience.
What sets the Argus P1 apart is its AI output adjustment, allowing users to fine-tune the airflow with a convenient side control. This feature provides a personalized and tailored vaping experience, ensuring every puff is just the way you like it. The device fires up to a wattage range of 5W to 20W, giving you the flexibility to choose your preferred power level.
HOW TO REDEEM:
To take advantage of this incredible EightVape promotion, customers simply need to visit the EightVape website, add the VooPoo Argus P1 20W Pod Kit to their cart, and apply the promo code "ARGUS30" during checkout. The discount will be instantly applied, providing a substantial 30% off the regular price.
ACT NOW – LIMITED-TIME OFFER:
This exclusive EightVape promotion for the VooPoo Argus P1 20W Pod Kit is available for a limited time only, starting [17/11/2023] and concluding [20/11/2023]. Vapers are encouraged to act swiftly and secure their VooPoo Argus P1 20W Pod Kit at this unbeatable price.
ABOUT EIGHT VAPE:
EightVape has established itself as a go-to online retailer for the vaping community, offering a diverse selection of top-quality vaping products, including mods, e-liquids, and accessories. Committed to customer satisfaction and product excellence, EightVape continues to lead the industry with passion and innovation.