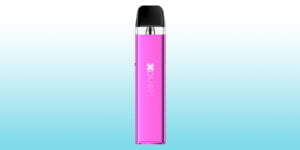 New product launch Geekvape Wenax Q Mini Pod Kit
Geekvape, a leading innovator in the vaping industry, is proud to announce the launch of its latest masterpiece, the Geekvape Wenax Q Mini Kit. Set to hit the market on October 26th, this entry-level kit promises to revolutionize the vaping experience with a host of exciting features.
The Wenax Q Mini Kit boasts compatibility with Geekvape Q cartridges, ensuring users can enjoy their preferred e-liquids hassle-free. What sets this pod system apart is its ability to deliver an extraordinary MTL-RDTL (Mouth-to-Lung and Restricted Direct-to-Lung) experience. With easy and automatic vaping, a battery life that can last up to two days, and a maximum output of 25W, vapers are invited to savor the full flavor of Nic-salts or Freebase liquids at their convenience.
Key Features of the Geekvape Wenax Q Mini Kit:
Unique Design: With a chic and eye-catching design, the Wenax Q Mini Kit is more than just a vaping device; it's a fashion statement that allows users to stand out from the crowd.
Auto Draw: The hassle of pressing buttons is a thing of the past. Enjoy effortless vaping with the automatic draw feature.
Top Fill: Refilling e-liquid has never been easier, offering a mess-free experience that vapers will appreciate.
Adjustable Airflow: Customize your vaping experience by adjusting the airflow to suit your preferences.
Long-lasting Battery: The 1000mAh battery ensures that you can enjoy uninterrupted vaping for up to two days on a single charge.
Geekvape Q Cartridge Compatibility: Easily switch between cartridges to adapt to your vaping needs.
Technical Specifications:
Size: 23.8*108.91mm
Power Output: 25W Max
Cartridge Capacity: 2.0ml
Coil Resistance: 0.6Ω / 0.82Ω / 1.22Ω
Battery Capacity: 1000mAh
Charging Port: Type-C
Breathing Light: 3 Colors (Green/Blue/Red)
Battery Status Instructions:

Red Light (0~30%)
Blue Light (31~60%)
Green Light (70~100%)

Overtime Protection: If a single vaping session exceeds 10+1 seconds, the output will cease, accompanied by a red light flashing for 3 seconds.
Short Circuit Protection: The device prioritizes safety and will cease operation if a short circuit is detected, indicated by the red light blinking 8 times.
What's Included:
1 x Wenax Q Mini Device
2 x Geekvape Q Cartridge (2ml each)

Pre-installed: 0.6Ω coil (18-25W)
Spare: 1.2Ω coil (8-12W)

1 x Type-C USB Cable
1 x User Manual
About Geekvape:

Geekvape is a leading innovator in the vaping industry, dedicated to delivering cutting-edge, high-quality products to vaping enthusiasts worldwide. With a strong commitment to safety, design, and innovation, Geekvape continues to set industry standards and redefine the vaping experience.