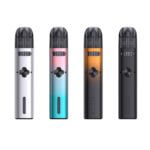 Uwell Caliburn Explorer Pod System Kit
Uwell Introduces Uwell Caliburn Explorer Pod Kit: Two Different Types of Juice in One Pod
Features
Power-Packed Performance: 1000mAh Rechargeable Battery
Versatile Vaping: Dual Coils and Three Adjustable Modes
Mix & Match: Two Flavors, One Pod
Innovative Controls: Four-Leaf Clover Button
Lightning-Fast Charging: Type-C 2A
Draw-Activated Operation for Ultimate Convenience
Complete Package: Everything You Need Included
Unleash your nicotine cravings with the Uwell Caliburn Explorer Pod Kit!
Endless Vaping with a 1000mAh Battery
With a massive 1000mAh rechargeable battery, the Uwell Caliburn Explorer guarantees extended vaping sessions, so you can enjoy your favorite flavors for longer.
Flavor Fusion at Your Fingertips
The Uwell Caliburn Explorer's standout feature is its ability to hold two different types of juices in one pod. Simply press the four-leaf clover button to switch between three adjustable vaping modes. Choose from left coil mode, right coil mode, or dual coil mode, and even create mixed flavor combinations with the push of a button!
Innovative Control in Your Hands
The Uwell Caliburn Explorer puts innovation at your fingertips. Use the left and right buttons to select your coil mode, the up button for a mixed juice flavor, and the down button for separate tastes. The possibilities are endless, so let your creativity shine!
Power Up Quickly with Type-C 2A Charging
No more waiting around! The Type-C 2A fast charging ensures you spend less time charging and more time enjoying your favorite flavors.
What's Inside the Box?
1 Uwell Caliburn Explorer Pod Kit
1 Uwell Caliburn Explorer Empty Pod Cartridge
1 Meshed 0.8ohm Caliburn G Coil (Pre-installed)
1 Meshed 1.2ohm Caliburn G2 Coil (Pre-installed)
1 Meshed 0.8ohm Caliburn G Coil (Spare)
1 Meshed 1.2ohm Caliburn G2 Coil (Spare)
1 Type-C Cable
1 User Manual
Don't miss your chance to explore a world of flavor combinations and enjoy a vaping experience like never before. Get yours today and step into the future of vaping!