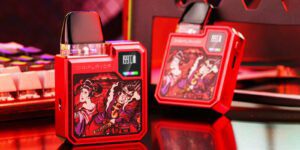 Geekvape's DIGIFLAVOR Brand Unveils the Futuristic Digi-Q Pod Kit
On October 17th, Geekvape proudly introduced the latest addition to its DIGIFLAVOR brand, the Digiflavor Digi-Q Pod Kit. This innovative entry-level kit is set to redefine the vaping experience with its cutting-edge design and feature-rich capabilities.
The Future of Vaping
The DIGIFLAVOR Digi-Q Pod Kit boasts a brand-new design that marries stylish graphics with durable aluminum construction. This revolutionary pod kit promises to elevate the vaping experience with a host of impressive features.
Key Features of the DIGIFLAVOR Digi-Q Pod Kit:
Precise Adjustments for Airflow & Temperature: Enjoy total control over your vaping experience with precise airflow and temperature adjustments.
HD OLED Display With RGB Light: The 0.32-inch OLED display not only provides essential information but also adds a touch of style with RGB lighting.
Auto-draw & Button-triggered: This kit offers the flexibility of both auto-draw and button-triggered operations, catering to individual preferences.
Compatible with Geekvape Q Cartridge: The DIGIFLAVOR Digi-Q Pod Kit is designed for convenience, with compatibility for the Geekvape Q Cartridge, allowing for easy top-fill capabilities.
Top Fill: Refilling your e-liquid has never been easier, offering a mess-free experience.
1000mAh Battery: With a powerful 1000mAh battery, enjoy extended vaping sessions without constant recharging.
Technical Specifications:
Size: (H)70.96x(L)48.80x(w)16.80mm
Cartridge Capacity: 2.0ml
Coil Resistance: 0.6Ω / 1.2Ω
Battery Capacity: 1000mAh
Charging Port: Type-C 5V
Output Temperature: 67°C-307°C
Display Screen: 0.32-inch OLED Display with RGB light
Breathing Light: RGB light
Battery Status Instructions:

61-100% Battery: Green RGB
31-60% Battery: Blue RGB
11-30% Battery: Orange RGB
0-10% Battery: Red RGB

Overtime Protection: If a single smoking session exceeds 10+2 seconds, the output will automatically stop, and the display will prompt "Over Time." The Red RGB light will flash several times within 5 seconds.
What's Included:
1 x DIGIFLAVOR Digi-Q device
2 x Geekvape Q Cartridges (2ml each)

Pre-installed: 0.6Ω coil
Spare: 1.2Ω coil

1 x Lanyard for added convenience and portability
About DIGIFLAVOR

Digiflavor was established in 2016 by parent company GEEKVAPE, which currently maintains independent brand operations. GEEKVAPE is one of the most innovative companies in the e-cigarette industry.