Are you looking for a powerful and playable electronic cigarette device? Look no further, the Uwell Whirl F Pod Kit has arrived and will redefine your vaping experience. With its stylish design, impressive fidget spinner functionality, and unparalleled performance, this pod vape kit is ideal for both beginners and experienced vapers alike.
Product Color
Uwell Whirl F will be available in 4 colors in the first batch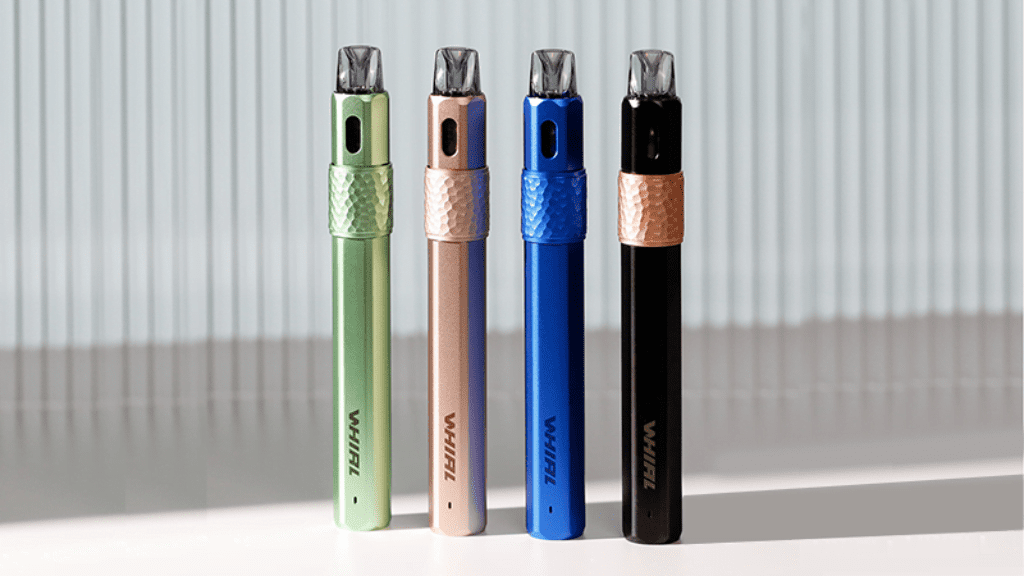 Champagne
Black
Blue
Green
Design and build quality
The Uwell Whirl F Pod Kit features a sleek and ergonomic design that's comfortable to hold and carry. Its 6-sided body shape can be easily placed on the desktop without worrying about the device rolling. Metal body provides better protection. Compact in size and easily stored in a pocket or bag, the Uwell Whirl F Pod Kit is designed with user convenience in mind. The device features single-button operation, making it hassle-free to use. In addition, the kit also integrates multiple safety functions such as short circuit protection, low battery alarm, and timeout protection to ensure that users have a safe and pleasant vape.
Features and specifications
Let's briefly look at the basic parameters of the product
Dimensions: 140.8mm x 18.8mm x 18.8mm
Net Weight: 51 g
Battery Capacity: 450mAh
E-liquid Capacity: 2mL
Charging Port: USB Type-C
Cartridge: PCTG
Chassis Material: Aluminum Alloy
Cartridge Specifications: FeCrAl Meshed 1.2Ω WHIRL F Integrated Coil Cartridge
Performance and steam generation
For a better experience, I used the included 1.2Ω WHIRL F Integrated Coil Cartridge and filled it with nickel salt e-cigarette juice before vaping. The e-cigarette experience met my expectations. When setting the Uwell Whirl F Pod System Kit to its maximum of 11 watts, I experienced plenty of clouds and a pleasant flavor. But limited by the power, we can't have higher requirements, which gives me medium smoking performance. Newbies can give it a try.
Battery life and charging
The Uwell Whirl F Pod Kit comes with a built-in 450mAh battery that ensures plenty of power so you can enjoy a long vaping experience without worrying about frequent recharging. This battery capacity combined with the device's low power output and intelligent coil recognition ensures a consistent, smooth vaping experience. Whether you prefer rich flavors or dense vapor, the Uwell Whirl F Pod Kit delivers satisfying results every time.
pros and cons
Positive
fidget spinner design improves device playability
LED indicators show the device status and remaining battery power
Stylish appearance, and hexagonal design help the device stay stable
side padding
Automatic lottery activation
Negatives
Low power, suitable for novices
Final thoughts and suggestions
The Uwell Whirl F Pod Kit is an excellent vape device that combines style, convenience, and playability in a compact package. With its stylish design, efficient performance, adjustable airflow, and innovative coil, the Uwell Whirl F Pod Kit provides a great vaping experience for all levels. If you want to have some fun while vaping, the Uwell Whirl F Pod Kit is a good choice for playing and vaping.