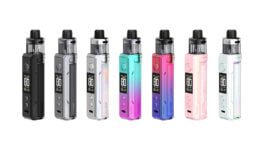 VOOPOO DRAG X2 Pod Kit A Vaping Revolution with PnP X Coils Platform
On November 1, 2023, the pioneer of VOOPOO e-cigarette industry launched VOOPOO DRAG X2 and VOOPOO DRAG S2. We all know that the VOOPOO DRAG series has always been one of the representative products of the VOOPOO family. This time the e-cigarette product is a breakthrough. What kind of surprise can it bring us?
Elevating Your Vaping Experience
The VOOPOO DRAG X2 comes equipped with the innovative PnP X coils platform, delivering exceptional performance and flavor while maintaining its compact and portable design. Vaping enthusiasts can enjoy 100ml of e-liquid without sacrificing flavor and burning out their coils. This is what voopoo officials said. I believe they must have such confidence if they dare to say it.
Key Features of the VOOPOO DRAG X2:
PnP X Coils Platform: The VOOPOO DRAG X2 boasts the new PnP X coils platform, a game-changer in the vaping world, providing an unparalleled vaping experience.
Material: Crafted with precision, the device features a combination of Zinc Alloy and Leather, ensuring durability and style.
Battery Capacity: The VOOPOO DRAG X2 is powered by a single external 18650 battery (not included in the package) and offers a wide power range from 5W to 80W.
Cartridge Name: The device is complemented by the PnP X Cartridge DTL, with a generous 5.0mL capacity for a long-lasting vaping experience.
Recommended E-liquid: The VOOPOO DRAG X2 is compatible with e-liquids with a VG content ranging from 50% to 70%, with a recommended nicotine level of 10mg or less.
Standard Coils: The package includes two standard coils – PnP X 0.15Ω and PnP X 0.3Ω – ensuring versatility and an exceptional flavor profile.
Technical Specifications:
Color Options: Spray Black, Gray Metal, Colorful Silver, Sky Blue, Modern Red, Glow Pink, and Pearl White
Material: Zinc Alloy + Leather
Battery Capacity: 18650*1 (Not included)
Output Power: 5-80 W
Output Voltage: 3.2-4.2 V
Resistance Range: 0.1-3.0 Ω
What's Included:
DRAG X2 Device * 1
PnP X Cartridge DTL (5 mL) * 1
PnP X 0.15 Ω * 1 (Pre-installed)
PnP X 0.3 Ω * 1
PnP X Platform Card * 1
Type-C Cable * 1
User Manual * 1
Differences between DRAG X2 and DRAG S2:
VOOPOO is simultaneously launching the DRAG S2 alongside the DRAG X2, and both devices share the innovative VOOPOO PnP X Platform. The primary distinctions between the two are as follows:
Device:
DRAG X2 is a pod mod designed to accommodate a single external 18650 battery (not included), offering a power range from 5W to 80W.
DRAG S2 comes with a built-in 2500mAh battery and provides power output from 5W to 60W.
Cartridge:
The standard cartridge for DRAG X2, the PnP X Cartridge DTL, is the sole option available worldwide, with compatible coil resistances of 0.15Ω and 0.3Ω.
DRAG S2 DTL version is equipped with the PnP X Cartridge DTL and is compatible with coil resistances of 0.2Ω and 0.3Ω.
For the DRAG S2 MTL version (Exclusive for Italy, France, and Germany), the standard cartridge is the PnP X Cartridge MTL, featuring a PnP X 510 DTL Drip Tip (Pre-installed) and a PnP X 510 MTL Drip Tip (Replaceable). The compatible coil resistances are 0.3Ω and 0.6Ω.
VOOPOO is continuously redefining the electronic cigarette experience, providing enthusiasts and newcomers with the opportunity to explore a world of flavors, convenience, and versatility. The DRAG X2 is poised to be a game-changer in the electronic cigarette industry.
The upgrade of the PnP X coils undoubtedly brings good news to a wide range of electronic cigarette enthusiasts. As we all know, coils have always been consumables in the vape accessories, and the vaporization and heating of e-liquids can lead to carbon buildup, affecting the final taste. If the PnP X coil series can support the use of 100 milliliters of e-liquid and maintain an authentic flavor, this will be a significant achievement in the vape industry!
About VOOPOO

VOOPOO is a leader in the vaping industry, committed to delivering cutting-edge, high-quality products to vaping enthusiasts around the world. With a strong focus on innovation, design, and safety, VOOPOO continues to set industry standards and redefine the vaping experience.