On the 30th of August 2023, as promised, Geekvape released its brand new product, the Geekvape Wenax S3, a great product to enhance your e-cigarette experience. Building on the success of its predecessor, the Geekvape Wenax S-C, this kit delivers an even better visual and operational experience with the enhanced GEEKVAPE S cartridge and the introduction of improved intuitive LED indicators.
We all know that Geekvape is a renowned brand in the e-cigarette industry with a history of continuous technological research and innovative design. Geekvape is committed to delivering a superior e-cigarette experience and has a reputation for producing high-quality devices suitable for both beginners and experienced e-cigarette players. Most notably, they have developed and produced a triple-proof series of vape products that have been renowned. sought after by consumers.
Now Geekvape Wenax S3 Pod Kit comes in 5 colors, Classic Blac, Texture Dark, Texture Blue, Atom Silver, Pearl White

Products
Geekvape Wenax S3 I prefer to call him vape pen series products has a body size of 19×123.80mm, and a set product weight: of 50.9g, The person is very suitable for daily travelling use, very light, and easy to carry! It has a liquid capacity of 2ml and supports a maximum output of 18W. The built-in 1100mAh battery can easily meet the demand of one day's battery life. Actual use for 2 days is no problem. It's worth noting that the Geekvape Wenax S3 kit is now fully compatible with ergonomic drippers and filter drippers, providing e-cigarette smokers with a versatile and satisfying experience similar to that of traditional cigarettes!
Appearance and Functionality
Featuring a very typical family design, all in a cylindrical pen-test design, the Geekvape Wenax S3 is a very typical Pod system, perfect for beginners or those who want to carry it around with them and have it handy. There are no extra switches, no on or off, and no settings. Simply inhale when you want to smoke an e-cigarette and pocket it when you're on the go. The valuable addition of airway adjustment can greatly increase the user's goodwill! Push the button to activate the maximum output of the largest cloud. Increased flavor and vapor possibilities.
Filling the pod is basic. The pod itself is magnetic and very easy to get in and out of. A magnet will hold it in place with no wobble.
The upgraded cartridge is fully compatible with the ergonomic drip tip and filter drip tip. Match the ergonomic drip tip to bring the comfort of a mellow flavor. Match the filter drip tip for a cigarette-like feel.
Overall, this usage is perfect for first-time e-cigarette users who want to quit smoking, or those who want something small that doesn't produce a lot of vapor to get them through the day.
Battery and Charging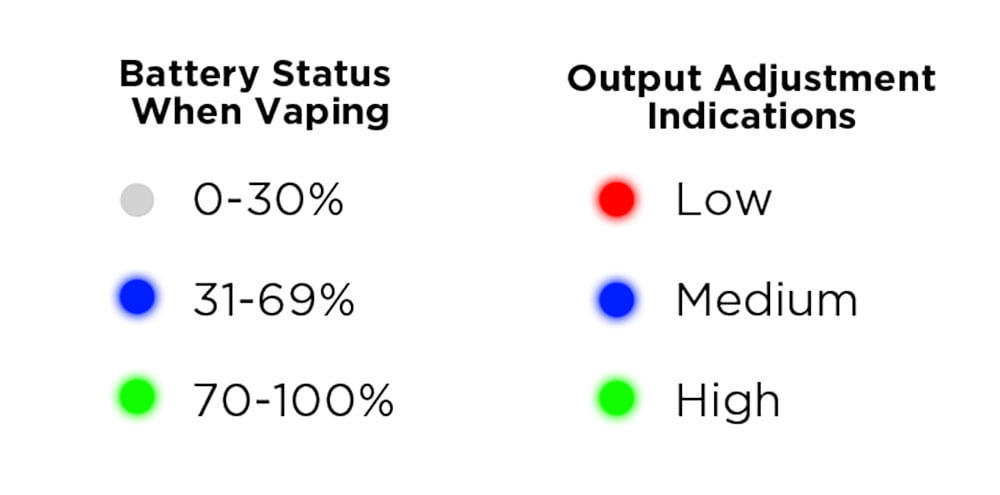 The Geekvape Wenax S3 kit comes with an 1100mAh battery to ensure that it will be able to keep up with the demands of your e-cigarette. The Type-C charging port is a welcome addition, providing faster and more efficient charging. The battery status indicator, which is indicated by different colored lights, provides a clear visual indication of your device's power level, ensuring you always know when it needs charging.
Product Performance
The WENAX S3 has been upgraded with a 360° ring indicator for a smarter and more intuitive experience, allowing you to view the status of your device at any angle. In terms of performance, the Geekvape Wenax S3 kit is as good as ever. The internal VPU ensures a better vaping experience, providing consistent flavor and vapor production. Precise adjustment of airflow and output allows for a customized e-cigarette experience to suit individual preferences. Boost mode further enhances the goodness of use. Smoke volume is increased by 80% which is great!
Pros Cons.
Pros:
Solid build quality
Lightweight and durable
Beginner friendly
The upgraded cartridge comes with two drip-tip options
Precise airflow and output control
User-friendly device lock button
Smart LED indicators
Ample 1100mAh battery capacity
Ergonomic and stylish design
Cons:
Product packaging is a bit extravagant

Verdict.
The Geekvape Wenax S3 kit is recommended as a starter kit, the product design, innovation, and performance are intuitively visible and provide a premier e-cigarette experience. Whether you are a seasoned e-cigarette enthusiast or a newcomer to the world of e-cigarettes, this kit will provide you with a satisfying and enjoyable journey. Upgraded Geekvape Wenax S cartridges, improved LED indicators, and impressive battery life make it a top choice for those looking for a versatile and reliable e-cigarette device.