Editor choice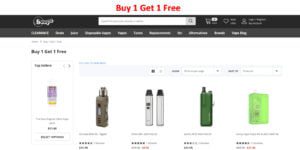 eightvape new activity, vape Buy 1 Get 1 Free
Eightvape's buy one get one free sale has started, it's an absolute bargain.
Just add two items from the event page to your cart and one will be free at checkout. Limited stock, first come first served.
Product List
Humvee 80W Kit – Sigelei
OXVA Xlim 25W Pod Kit
Suorin SPCE 40W Pod Kit
Vandy Vape Pulse AIO & AIO.5 80W Kit
Vaptio Prod 20W Pod Kit
Uwell Cravat 9W Pod Kit
Lost Vape URSA Pod Kit
Uwell Caliburn Ironfist L 16W Pod Kit
Geekvape Wenax H1 Pod Kit
YiHi SXmini SX Nano Pod Mod Kit
Suorin Drop Pod Device Kit
Geekvape Wenax S-C Pod Kit
Elf Bar RF350 Pod Starter Kit
OXVA Xlim 25W Pod Kit (w/ V2 Pod)
Uwell Kalmia Pod System Kit
OXVA Xlim C 25W Pod Kit
Exxus Snap VV Alternative Vaporizer
Horizon Durandal Replacement Pod (1x Pack)
OXVA Unione PnM Standard Tank
Voopoo Argus Air 25W Pod System Kit
Voopoo Drag Nano 2 Pod Kit
Vaptio Prod Replacement Coils
Vaporesso Luxe PM40 40W Pod System Kit
Vapmod Xtube Pro Vaporizer
Uwell Valyrian Coils (2pcs)
Uwell Caliburn A3 13W Pod Kit
Uppen Replacement Pod (Pack of 2x)
YiHi SXmini Pod Kit
Smok RPM40 40W Pod System Kit
SMOK RGC Replacement Coils (Pack of 5)
SMOK Nord Replacement Coils (Pack of 5)
SMOK LP2 Replacement Coils (Pack of 5)
Relx Essential Pod Device
OXVA Xlim C Replacement Coils (5x Pack)
OXVA UniPro RBA
VooPoo Drag 3 TPP-X 177W Kit
The above products are eligible for buy one, get one free, and you can purchase them according to your own needs.